This experience breaks the mold by transforming the gallery space into a believable arctic world where the sun rises and sets, weather patterns change, and animals migrate with the seasons. In this fully immersive environment, guests are empowered to play an active role in the experience, where they not only get to learn about technologies used in the arctic, they actually get to use them.
They are invited to metamorphose from spectator to actor, from observer to do-er, to become arctic researchers. Using both analog, physical and digital technologies such as drones, hydrophones, ground-penetrating radar and ice core drills, visitors explore the dynamic, constantly changing environment of the far north.
Guiding the concept was the notion of "content exploded," which was achieved through the synchronization of sound, light, touch, vibration, and temperature. Care was taken to seamlessly integrate hardware and controls into the scenographic design to keep the environment as immersive as possible. Energy and environmental concerns were approached as overall life-cycle, sustainability, and hygiene priorities, through the use of easy-to-clean equipment and long-life systems programmed to power down at night automatically. 
Arctic Adventure signals a sea change to visitors by transporting them to an environment unlike any other they've experienced at a museum before. With opportunities to interact with real technology, visitors of all ages and abilities transform into active participants who can explore what these tools reveal about climate change through experiential learning.
The Lighting Control concept is anchored in the premise of an LX synced directly with interactive, real-time game engines, allowing Museum staff to easily set holistic parameters that drive a flexible, illuminated canvas that seamlessly blends low-resolution and high-resolution lighting and visuals.
Care was given to seamlessly integrate LED lighting and projector hardware into a low ceiling black-out zone, as well as illuminated touch displays and touch surfaces such as ice into physical scenographic design. Highlighting artifacts and graphic panels without disrupting the immersive environment was achieved by balancing light levels and selecting warmer hues.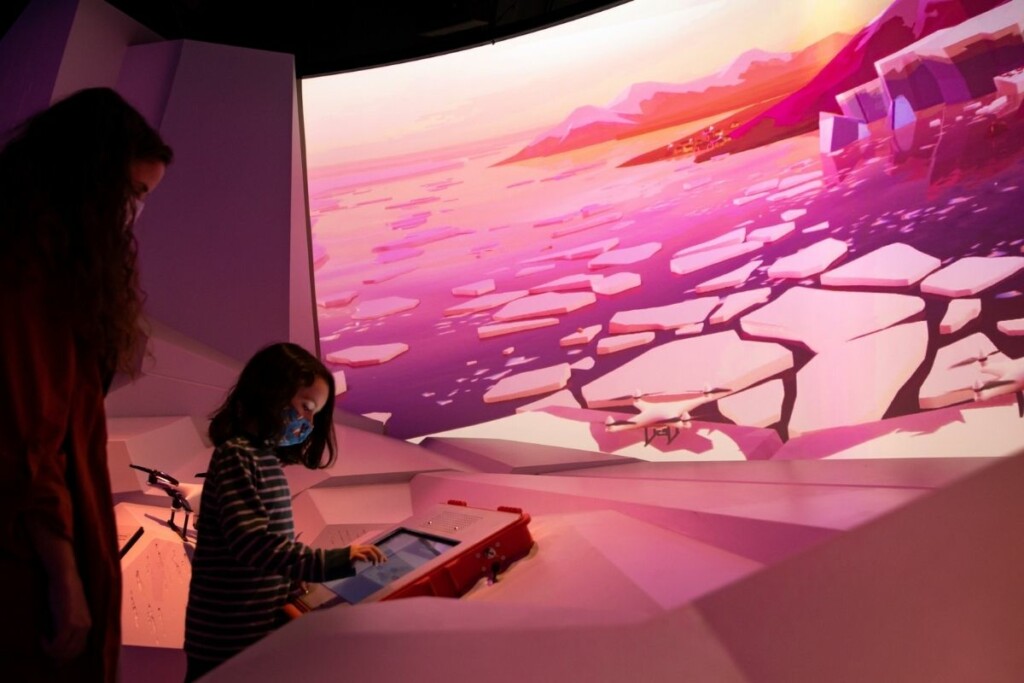 To ensure visual comfort and accessibility, designer worked directly with a visually-impaired museum consultant to calibrate contrast and lighting levels throughout every zone.
Energy and environmental concerns were approached as overall life-cycle, sustainability and hygiene objectives, specifying easily-cleaned, long-life, solid-state LED and laser projection systems programmed to automatically power down at night.
To empower visitors to become explorers, operators and researchers, this holistic approach ranges from enabling guests to pilot a physical drone equipped with IR cameras to observe 'real-time' animated imagery and locate wildlife in the arctic landscape, to using GPS trackers to understand migration patterns of animals, to lowering virtual hydrophones under a projected ocean surface to identify whale species based on their unique calls.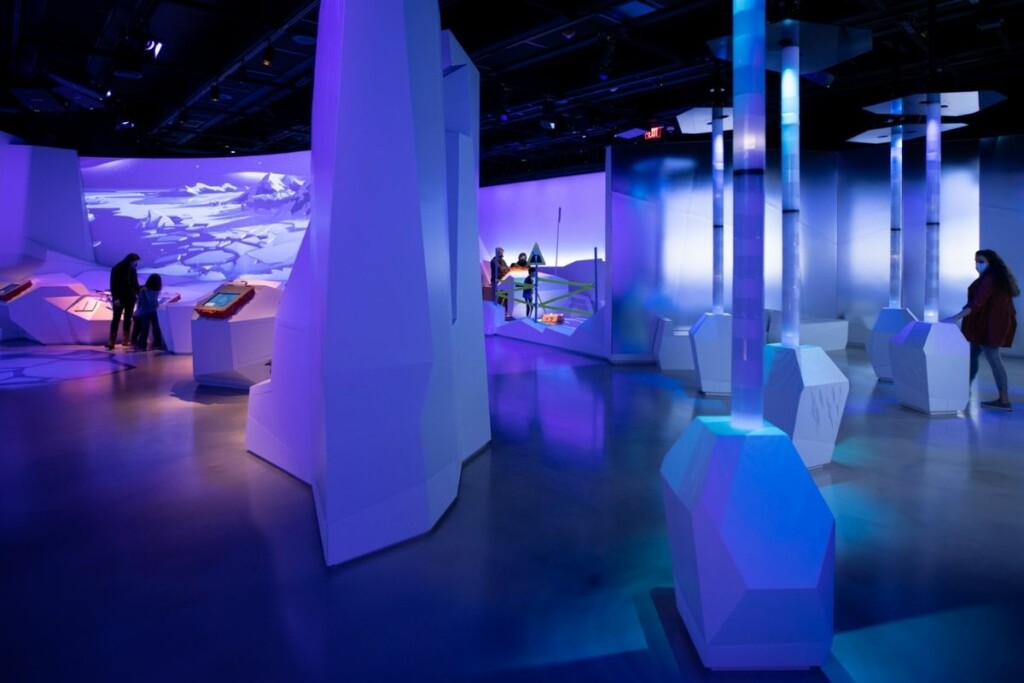 Arctic Adventure features four distinct zones, which each foster unique opportunities for intuitive learning:
The Polar Frontier: Visitors enter the exhibition through a multisensory ice cave, confronted by a touchable wall of real ice that's complemented by digital windows into ice cave habitats, such as that of the arctic fox. Around the corner from this cave, visitors experience a panoramic view of the northern frontier where they can spot arctic wildlife and observe changes in the environment.
The Animals Zone: In the next two zones, visitors learn how to track arctic land animals across an arctic vista using satellite technology and camera-equipped drones to interpret animal behaviours as they adapt to unprecedented warming. Generative, real-time content powers blizzards and storms that take over the vista, inspiring an appreciation of how extreme weather can make arctic exploration more challenging. An underwater hydrophone listening station supports visitors to differentiate the calls of animal species as they watch them pass below the ice beneath their feet.
The Ice Core Theater: As visitors move forward in the experience, they learn how to extract ice cores with drill rigs and analyze the millions of years of history recorded in bubbles of air trapped within the layers of ice, discovering evidence about the health and history of our climate.
The Arctic Navigation Zone: Visitors must work in teams to safely traverse a virtual ice field while avoiding losing their equipment (and themselves!) in its deep crevasses. Equipped with ground-penetrating radar and satellite maps, visitors apply real-life technologies and data to reveal and evade the crevasses that are hidden under the glacier's surface.
The following elements represent an overview of the components that were choreographed into the exhibit's unifying narrative framework.
Video
3x TV's
8x touchscreens
13x Laser projectors
Navigating: Converge 2x projectors to mitigate shadow interference
Ultra short throw on navigating walls, tricky mapping faceted planes with mirror
Audio: 50x speakers 3x subwoofers
Lighting

90x RGBW LED fixtures
50x Architectural track lighting heads

Digital & physical interactive stations

8x pelican case touchscreen stations

2x hydrophone
3x drone
1x GPS
2x navigating

2x physical drills that interact with video content.

Rotate hand drill to control the rotation of projected drill visualisation
Raise/Lower the Tripod drill wire, feel vibrations the drill

10x connected objects (Ground penetrating radar, GPR) with IR camera tracking and haptic/lighting feedback. Visitors are tracked with IR lidar scanners (don't step in a crevasse!)

Object & blob tracking (camera & lidar systems)

Custom show control
3x system racks
Semi-transparent rear-projection screens enabling double sided projection content
MDF decor with HDPE baseboards for durable and cleanable surfaces.

Ice wall with fiberglass base and surround.
Buoys
Back-lit Fiberglass climber wall.

5 models of real artefacts
Approximatively 15x Interactive props/artifacts
Connected objects & devices (turnable, vibrating ice core drill / pushable, vibrating GPRS ground penetrating radar device / hydrophone listening station
Optimal capacity (pre-covid 50 instantaneous)
Partners
The Museum of Science, Boston