How do you improve on your most iconic projector series, ever? Go beyond what everyone believes is possible, that's how. The new Christie M 4K25 RGB re-imagines and reinvents the rugged and reliable Christie M Series industry workhorse with innovative, cutting-edge RGB pure laser technology and several unique attributes. You won't believe your eyes when you see how much light and color come from this small projector.


With 25,000 lumens, and an incredibly small form factor and light weight (just 92lbs), the versatile M 4K25 RGB is a new peak of projection perfection. The ultra-quiet M 4K25 RGB features double the brightness, double the color volume capability, and quadruple the resolution over our legacy M Series.
Product availability: End November/beginning December, 2021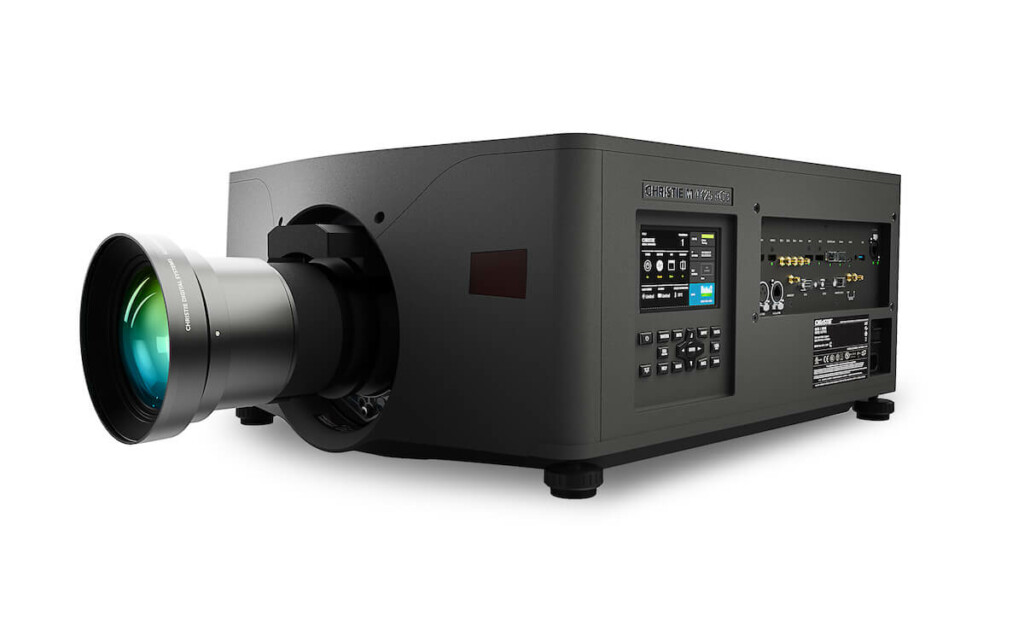 Unrivaled "lumens per pound"
Up to 25,000 lumens from a 92lb (41.7kg) projector with an incredibly small form factor – 24.3″ x 20.7″ x 106.6″ (617 x 525 x 270mm) – there's nothing else like it on the market today.
Why does that matter? Versatility and ease of handling. It's so much easier to install the projector when it comes to rigging it or placing it in tighter, challenging environments.
new precision pixel shift technology
The M 4K25 RGB uses our proprietary new precision pixel shift technology to produce 4K UHD (3840×2160) resolution imagery. The native DMD is 1920×1080.
The projector enables both 2D and 3D formats at 4K UHD resolution up to 120 Hz, which eliminates typical artifacts found in other pixel-shifting technologies at lower frame rates.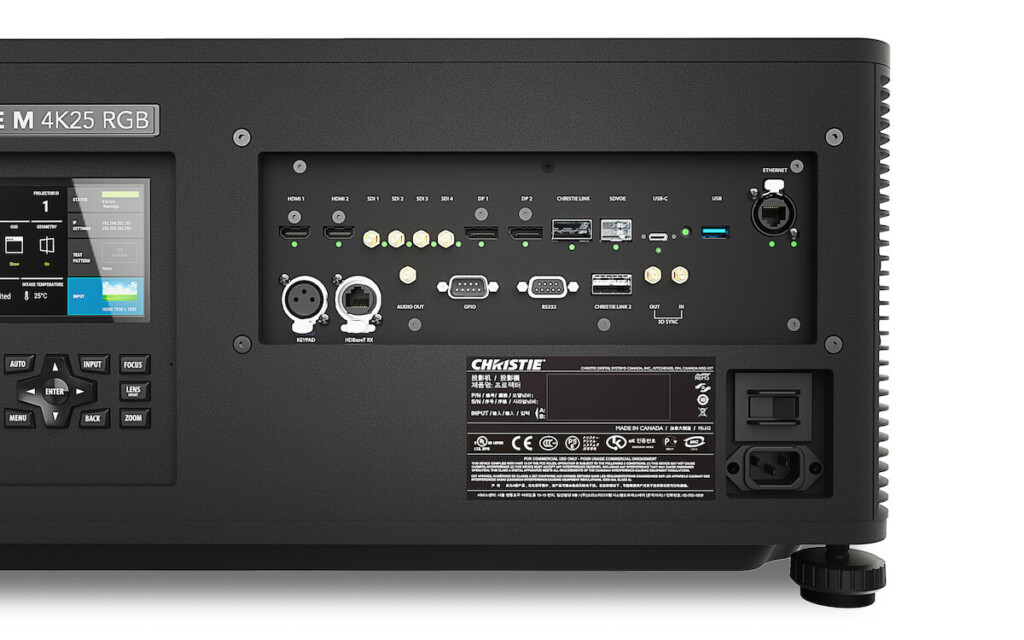 Electronic color convergence
Whether the projector is hung from the ceiling or truss-mounted, you can digitally adjust the red, green, or blue individually with the remote control—so you never have to climb a ladder to adjust your color convergence again.
Dual voltage operation
The M 4K25 RGB operates on 220 VAC at full brightness.
Users have the option to run the projector on 110 VAC at half brightness. The advantage? This more-than doubles the lifetime of the laser optical system (LOS) to a staggering 50,000 hours.
new TruLife+ electronics
Provides 'all-in-one' video processing. All the connections you need are included so there is no longer any need to buy or install additional input cards.
Includes built-in Christie Terra SDVoE connectivity for uncompressed 4K content with zero-frame latency.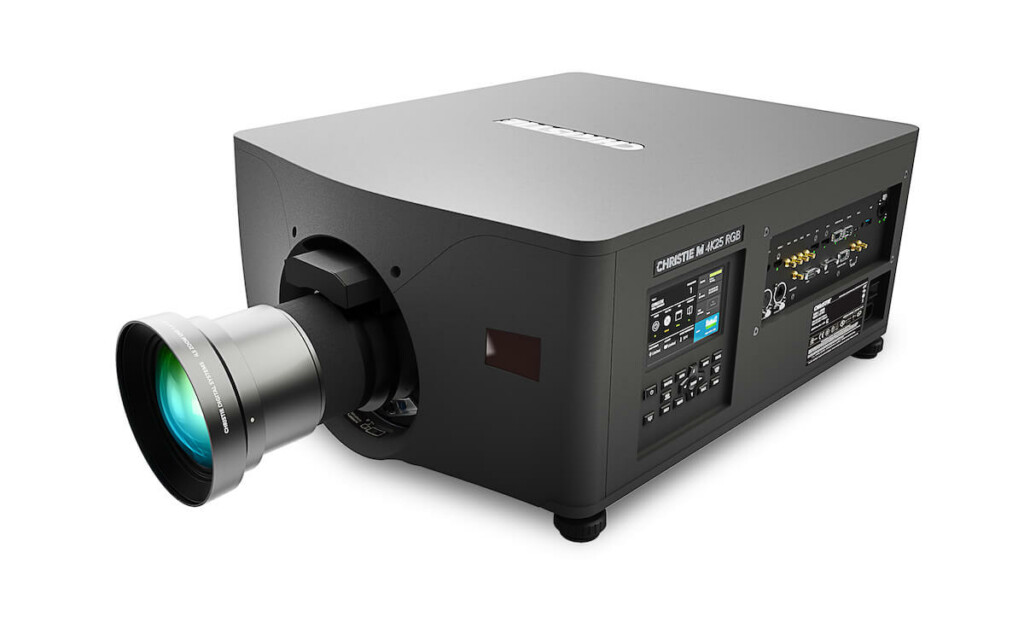 Integrated user interface
You can see input signal thumbnails and projector health at-a-glance on the full-color LCD display. And all projector menus and controls can be accessed via the ethernet web interface, allowing for real-time adjustments and monitoring of each projector on your network.
superior color performance
The M 4K25 RGB's color gamut is >96% of the Rec. 2020 color space. That's nearly double Rec. 709 and almost 50% more than DCI-P3.
Having more colors makes it possible to accurately reproduce exact brand or IP character colors, something that's much more challenging and often not possible when using projectors with Rec. 709 or DCI-P3 color gamuts.
The wider color gamut also makes Rec. 709 and DCI-P3 content appear more vibrant, creating the perception that it's brighter.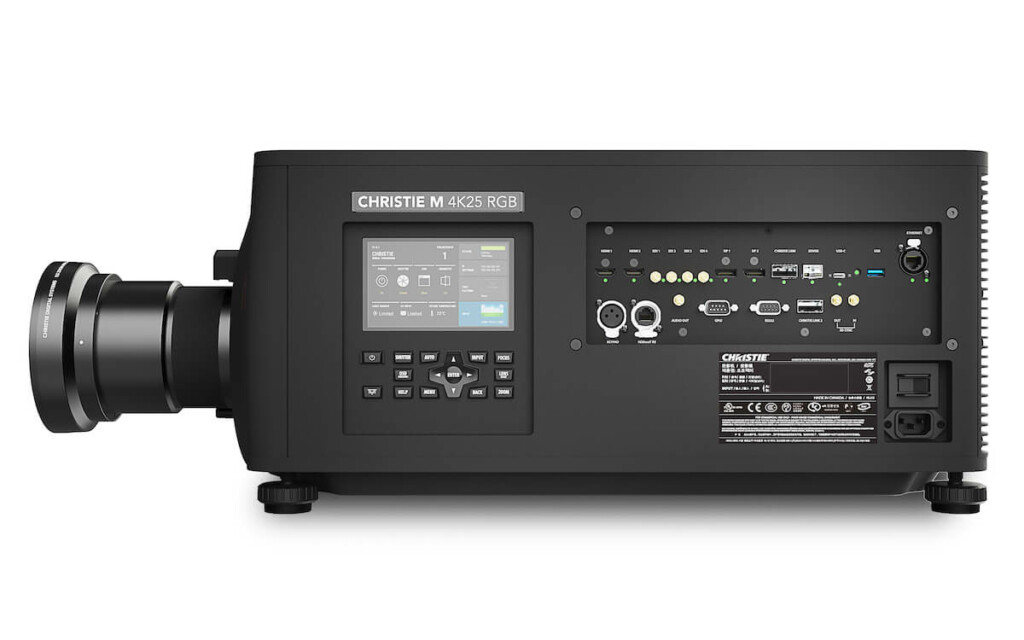 Christie LiteLOC technology is onboard
Our proprietary LiteLOC algorithm ensures automatic brightness control and color stability over time so the projector maintains day-one show quality over wide variations of ambient temperature.
Designed with existing customers in mind
Customers with Christie M Series projectors can re-use existing mounting hardware, shipping cases and lenses, which means considerable cost savings.
The M 4K25 RGB fits the same rigging frames as the original M Series projectors.
It is compatible with the same lenses as the Christie M and J series, and Crimson Series projectors.
It fits in the same shipping cases as the original M Series.
Intelligent Lens System (ILS1)
Our ILS1 lens suite also makes life easier when the projector is ceiling mounted or hung from a truss with a motorized zoom, focus, horizontal and vertical offset via remote control.
More information can be found here.