Spanning four floors of interactive art, with hundreds of installations and more than 79 unique projects, Convergence Station also includes a cafe, retail space, and a 488-person live performance venue called The Perplexiplex. Tickets have already begun to sell fast for the exhibition, with over 35,000 sold within the first 24 hours.
Convergence Station is the first stop on a quantum journey of exploration and discovery as passengers traverse new worlds, with a labyrinthine of mysteries waiting to be unveiled from its vibrant walls, portals, and wormholes.
Visitors arrive to discover that the story begins 25 years ago, when a freak cosmic event merged four worlds from different universes, erasing the memories of all residents and spawning the mystifying disappearances of four women. The Quantum Department of Transportation serves as the gateway to these diverse, alien worlds: kaleidoscopic cathedrals, Corinthian catacombs, lush habitats, and dazzling and gritty cityscapes.
Exploration is key when visiting and visitors are invited to join the people of the four worlds as they create new memories. In this hotbed of interplanetary cohabitation, memories serve as both currency and the key to unlocking the story behind the women's disappearances and cause of the convergence–as do multimedia clues that reveal themselves to all of the senses. Technology, art, music and intricate narratives are used throughout the exhibitions to elevate the way in which visitors interact with their surroundings.
The space offers an immersive, interactive experience that will transport travelers of all ages into fantastic realms of story and exploration. A place of discovery, guests will explore psychedelic, mind-bending art and uncover an underlying rich narrative, which will take them on a journey of discovery into a surreal, science-fictional epic.
With the helping hand of over 300 creatives, consisting of 200 Meow Wolf internal artists and 110+ Colorado-based collaborating artists including Kalyn Heffernan, Kyle Singer, Cal Duran, Everything is Terrible!,Molina Speaks, Sofie Birkin, and Moment Factory to name a few, 79 unique projects within the four floors of the interactive space are being brought to life.
At Convergence Station, memories are currency, and the QPASS is an optional RFID card that allows visitors to unlock "Memories" at Convergence Exchange devices throughout the space. Using the "Memories" collected, visitors can begin to uncover more about the citizens of Convergence and dive into the stories of these worlds even deeper.
In addition to the immersive art experience, guests can experience the 488-person live performance venue called The Perplexiplex where regular concerts will be taking place, created in collaboration with Moment Factory. Named "#1 for Live Events" in Fast Company's 2020 List of "Most Innovative Companies" and one of Rolling Stone's "Small cities, Big scenes" venues in 2020, the space at Meow Wolf's flagship location, House of Eternal Return in Santa Fe, is known for being one of the most unique independent music venues in the country, hosting shows for a wide range of artists in past years, including Animal Collective, Big Freedia, Claude Vonstroke, Chris Lake, Flying Lotus, STRFKR, and many more. Meow Wolf is excited to open a second music venue with the same caliber of artists.
Visitors can also look forward to dining at HELLOFOOD, a fast-casual cafe that has both grab and go and dine-in offerings. Inspired by the variety of tastes found in our neighborhood of Sun Valley, HELLOFOOD offers local food and beverage by local entrepreneurs who represent inclusivity and convergence of cultures. Before returning to the real world, guests will also be able to continue their exploration in the exhibition's gift shop. Meow Wolf's signature swag has gained a following of its own for its whimsical, maximalist style. Spanning over 2,000 square feet and offering over 1,500 unique items, these carefully curated keepsakes will allow guests to take home a piece of their experience.
Partners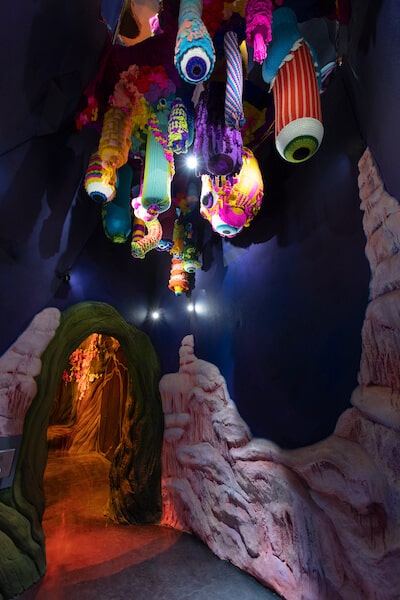 A key contributor to Meow Wolf's success was their partner, AOA, who provided project and construction management strategy. Mike Ostendorff (Managing Principal, AOA) and his leadership team provided Project Management support for Convergence Station, as well as the Meow Wolf Project Management strategy overall.
Additionally, Weiden+Kennedy worked closely with Meow Wolf on the advertising launch campaign for Convergence Station, including producing a launch film and a subversive billboard campaign, as well as collaboration on an in person activation.
Meow Wolf also collaborated with interactive technology and projection masters, Moment Factory, to create an experience that transforms the live performance venue into an immersive space of discovery where guests will be able to interact with the imagery, having the projections change in real-time based on their movements.