Curatours is a free to download app offering three types of cultural tour: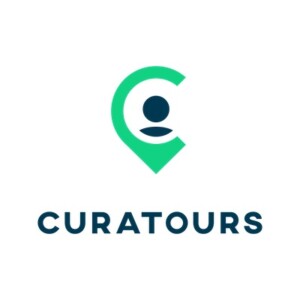 Self-guided – Self guided tours can happen at anytime, just login and go exploring!
Pre-recorded – This is similar to a self-guided tour only at points a guide will appear to tell you something about that place or the artefact you're near. It's a bit like a 3D audio guide.
Live-guided – The live-guided tour experience puts you in a digital space with an expert you can talk to and ask questions. To get a live-guided tour you will need to book on to one of the timeslots available.
Tour groups will be around 12-15 people and you could organise to meet your friends. It's vital to us that a social element is always possible within the platform, but you can also enjoy Curatours on your own, at your own pace, in a self-guided tour.
Curatours enables storytelling without limits. At their heart, museums are venues for storytelling, featuring physical artefacts that support and contain stories alongside teams of dedicated and expert staff who tease out and present the narratives contained within collections, presenting them in such a way as to communicate larger truths and highlight lesser-known experiences.
We know from our own experiences of in-person tours that the experience is truly brought to life in those moments when visitors can ask questions and find out information not contained within the guidebook – these interactions unlock the curiosity of visitors and provide them with long-lasting memories, while offering guides the opportunity to gauge what enthrals and intrigues the public, to better enrich their future tours. Often one of the greatest resources within a museum is their front of house team's knowledge, and Curatours provides a chance to centre this knowledge within the experience.
Working within the physical realm, museums are necessarily limited by concerns around safety, conservation and basic logistics, which can often hamper storytelling potential. With Curatours we can remove worries around daylight, dirty fingers, alarms and visitor flow, offering interpretation teams the chance to **piece together new stories that might be logistically impossible in the material world. Huge statues that are well-nigh impossible to move can be placed anywhere in a virtual space, stimulating the opportunity to tell stories in a different and intriguing way.
The platform offers potential for organisations to work with partners overseas like never before, in order to tell truly global stories and to place their collections within their original context.
Curators, tour guides and education teams can tease out **lesser-known experiences, and layer up their interpretation, offering tours that are calibrated specifically for children, or teenagers or specific demographic groups. Through the platform, we offer the chance for organisations to tell their stories to more people than ever before through integration of multiple language tours.
Partners
Simon Barratt – Founder & CEO
Brian Marshall – Founder & CTO
Emma Cooper – Project Lead
Lauren Livesey – Partnerships Manager
Isaac Page – Producer
Leo Mercer – Creative Content Producer
Scott Dunkley – Senior Developer
Fran Boot – Senior Developer
Lewis Bibby – Developer
Vivian Grace Murray – Developer
Nele Steenput – Character and 3D Artist
Kevin Hill – Community Manager