The Diamond 9 consoles are the result of years of technical innovation from the Avolites team, utilising their 45 years of industry experience, feedback from visual designers across the industry, and award-winning industrial designers to create the ultimate control surface. Each screen, fader, encoder and button has been meticulously designed so that the console becomes an extension of the designer; giving them the unfettered creative freedom they need to power their ultimate shows.

The new hardware is a feat of engineering. Bringing a new distinctive look and feel to the console, the main front panels are machined from a single sheet of sleek aluminium with high end finishes. The Diamond 9 boasts 11 screens, seven touch-enabled, including three main workspace screens, three for media preview, and specific screens for attribute control and softkey shortcuts. The new motorised touch-sensitive Penny & Giles faders and new encoders each have their own RGB bar graphs so levels can be monitored at a glance. The team also worked on incorporating a backlit integrated keyboard as a result of the feedback from users.
Building on the ground-breaking Synergy feature set, released in October 2019, that allows seamless integration between media server and lighting control, the Diamond 9 brings this to users' fingertips with intuitive design and layouts ideal for media playback and control. With the rise of video wall use in live performances, installs, and even TV productions, creating an immersive and seamless lighting and video performance is of vital importance to designers, rental and production companies.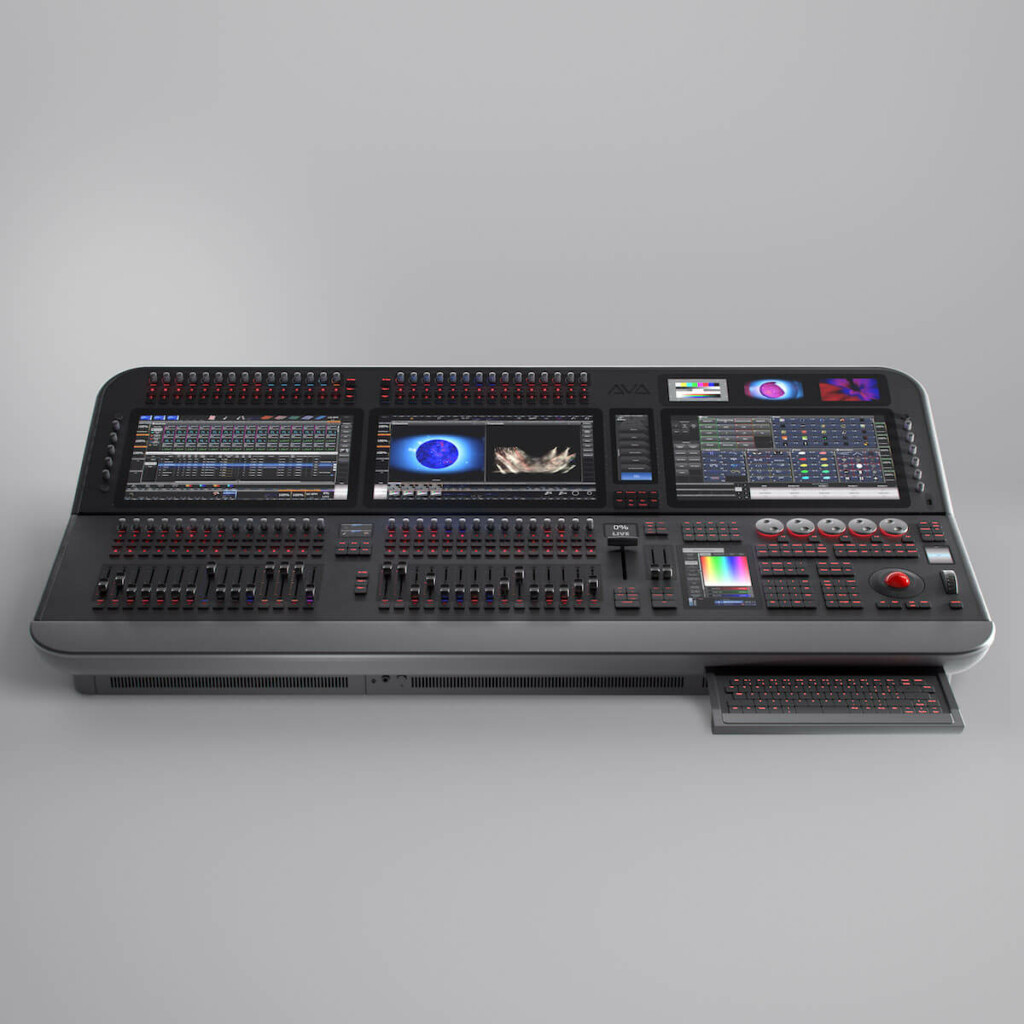 The Diamond 9 is at the centre of integration between media servers and lighting control, and allows seamless integration with our Synergy feature set. In addition, the Diamond 9 allows the user to control it all precisely, encouraging the programmer to think of the console as the hub of their FOH setup. It allows them to preview and cue video content, upload content to servers, and network all control elements together, as well as programming all visual elements.
The Diamond 9 console has been designed from the ground up to drive Avolites' proprietary Synergy software feature set. Synergy allows seamless integration between media server and lighting control, and the Diamond 9 unlocks the power of this in multiple ways, paving the way for future developments in software and compatible technologies that will further enable LDs to think of stages and venues as a single visual canvas. A less vital, yet important example of innovation in the Diamond 9, is the use of RGB bar graphs, a first in a lighting console, which gives the user the benefit of quick indication of the playback levels.