First, ISAAC is a hosting platform that brings sensible IT concepts and technologies within the more conventional Audio Video workflow. Its ability to run multiple applications and operating system inside the same physical unit creates an incredible opportunity for hardware consolidation and redundancy while favoring efficiency and sustainability.

ISAAC is also highly scalable, accommodating for a simple lobby Media Wall environment to an entire world-class theme park.
On the software side, the ISAAC Workspace presents itself as the ultimate access portal to the overall system. The Workspace is the one place to access the ISAAC tools and features but also the operational documentation, the setup and configuration pages of most devices, and even access the computers needed for programming and operation. ISAAC provides a predictable and presentable UI and workflow.

It is a new king of product that brings the entertainment industry to embrace the AV/IT world of overcharging, challenging, and fast-paced technology. It is the glue brings together the creative minds, the technical providers and the operational teams.
The core business strategy behind the ISAAC platform product is to bring IT concept and technology to the heart of AV integration system industry.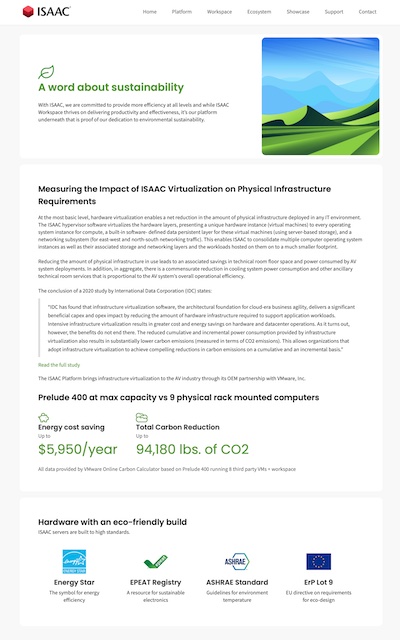 Although the merging of AV and IT has been talked about for decades, it is somewhat limited to using network infrastructure for AV data transport (audio, video, control…) and the rationalization of hardware product by using more standardized component (computer motherboard, chips, controller, and operating systems). The way AV systems are designed, deployed, operated and maintained hasn't transitioned fully yet.
When it comes to sustainability, the use of a multitude of independent hardware boxes (systems integration) is quite detrimental compared to IT concepts (one integrated system).
ISAAC brings the virtualization technology packaged into an AV centric and industry specific platform offering. It is the perfect tools for implementing hardware virtualization, and therefore hardware consolidation, to any AV system.
Reducing the amount of physical infrastructure in use leads to a substantial savings in energy consumption and carbon emission.
Because of its broad flexibility and incredible scalability, ISAAC can be used across our entire industry, on projects of any scale, thus bringing an opportunity to have a noticeable and positive influence on the global AV environmental impact.
More information can be found here.