Unlike a typical grocery store, Omega Mart is a satirical, tongue in cheek, social commentary on our relationship to wanting things, to consumerism and our heavy reliance on the supply chain. But like a regular grocery store, Omega Mart is full of delightful items to buy. The familiar-yet-strange entry anchor space to Meow Wolf's Las Vegas exhibit, Omega Mart welcomes participants into 5,000 sq feet of aisles brimming with strange delight.

Thirsty? Try Gender Fluid or Root Beer Flavored Vape Juice Flavored Root Beer. Hungry? Pop open some Honey Clumps of Hmmm. Freshen your breath with Doomed Expedition Gum ("It's not going well") while you freshen your laundry with Plausible Deniability Detergent. The store features over 200 products, many custom artist made creations that story-tell the exhibit narrative.
Wandering in aisles hundreds of custom satirical and artistic products (many purchasable), guests can enter hidden portals and wormholes (drink cooler, flower display, employee micro break room) to a psychedelic and surreal story world beyond the store. Featuring creative collaborations from 325+ artists and musicians from around the globe (such as Alex and Allyson Grey, Cocolab, Claudia Bueno, beach house and Brian Eno), the exhibition dazzles senses while leading you on an interconnected journey. Omega Mart's apron-clad operational staff are woven into the story and respond to cues in the environment, such as state changes, triggered by guests participating in the interactive narrative by 'booping'.
Combining eye-popping art with a rich narrative structure with four vast anchor spaces and 60 additional unique environments, such as installation-filled rooms, terrains, projection mapped canyons, and portals to other worlds, Omega Mart is unlike anything visitors have experienced before from Meow Wolf.
Technology, art, music and intricate narratives are woven throughout the 60+ rooms and 4 anchor spaces that make up Omega Mart, elevating the way visitors interact with their surroundings. Visitors can immerse themselves in the visuals and sounds within the exhibition or jump into the narrative or choose to participate in the rich and layered story.
A key part of Omega Mart's innovation is the interactive narrative experience using RFID and gameplay technology that was developed internally by Meow Wolf. This part of the experience creates a collective adventure that invites participants to reveal and have an impact on the immersive world we've built. With the Omega Mart Access Card, or "boop card," visitors can look for stations throughout the exhibition to "boop." Depending on the station, you'll take a survey, answer quiz questions or find out information about the store (And no, we haven't trademarked "boop" yet, but it's a term we affectionately use).
One of our anchor spaces that offers another peak into innovation is the Projected Desert, a large-scale 360 degree projection mapped environment featuring the artwork of some of the preeminent visionary artists in the world, such as Alex and Allyson Grey, Android Jones, Amanda Sage, and Luis Tamani, woven together through the editorial and animation prowess of Cocolab from Mexico City.
KHS&S created over 12,000 square feet of stunning rockface that serves as the projection surface that is the focal point of the room. The stunning projection display is set to a soundtrack written exclusively for Omega Mart by Brian Eno.
Slicing through the desert floor is an illuminated etched infinity mirror artistic element that represents runoff from the Factory where Omega Mart products are infused with their secret sauce ingredient known as 'The Source'. This psychotropic runoff makes the dwellers in the desert see the visions that are projected onto the rock face of the walls. Participants find their way to the space by entering various portals that begin in the grocery store, making the Projected Desert a truly unexpected and unforgettable immersive experience.
Massive undertakings like Omega Mart are further helping the art community by providing jobs for diverse pools of artists and creatives. The pandemic has stripped so many of their jobs, especially those in the arts, and Meow Wolf has made a conscious decision to go back to its roots by working with local communities to bring its vision to life. As the only Certified B Corp in the Entertainment industry, Meow Wolf has invested more than $615,000 into the Denver arts community through non-profit support and collaborations with local artists.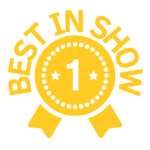 Best in show
Omega Mart received the highest scores (across all categories) from our judges, making it the blooloop Innovation Awards 2021's Best in Show.
Partners
A key contributor to our success was our partner, AOA, who provided project and construction management strategy. Mike Ostendorff (Managing Principal, AOA) and his leadership team provided Project Management support for Omega Mart, as well as the Meow Wolf Project Management strategy overall.
Additionally, Weiden+Kennedy worked closely with Meow Wolf on the advertising launch campaign for Omega Mart, including producing a launch film, a subversive billboard campaign, and a 60 ft inflatable Gorilla
Hundreds of artists and collaborators worked on the space.