In the Global Welcome Center, the second largest curved LED wall in the world greets visitors in their language of origin through realtime ticket scan data and invites them to interact through motion with the artistic content displayed on the LED screen of monumental proportions. The journey towards the SkyPods that take visitors 100+ stories to the top continues through the Reflection Screen, Horizon Grid & Portal Wall installations where visitors learn about the location, history & vision of the future of Manhattan and the One World Trade Center itself.
This experience streamlines the customer journey, transforming the entrance hall and queueing experience into an interactive, narrative voyage that connects visitors to the history, present, and future of Lower Manhattan.
The multimedia experience consists of four installations, each with its own technical specificity, and its own type of content.
1) The Welcome Wall
The Welcome Wall is the visitor's entry into the experience and acts as the 'global guest book'. The visual content displayed on the second largest curved LED wall in the world (1,142 ft w x 218 ft h) oscillates between a broader view of the world and a portrait of the United States, conveying a global connection.
Float4 designed an interactive intelligent particle system that dynamically highlights the country, state, region of each visitor. This generative content comes from data collected from real time ticket scans. For every visitor that scans a ticket, a greeting in their native language pops onto the LED screen of monumental proportions.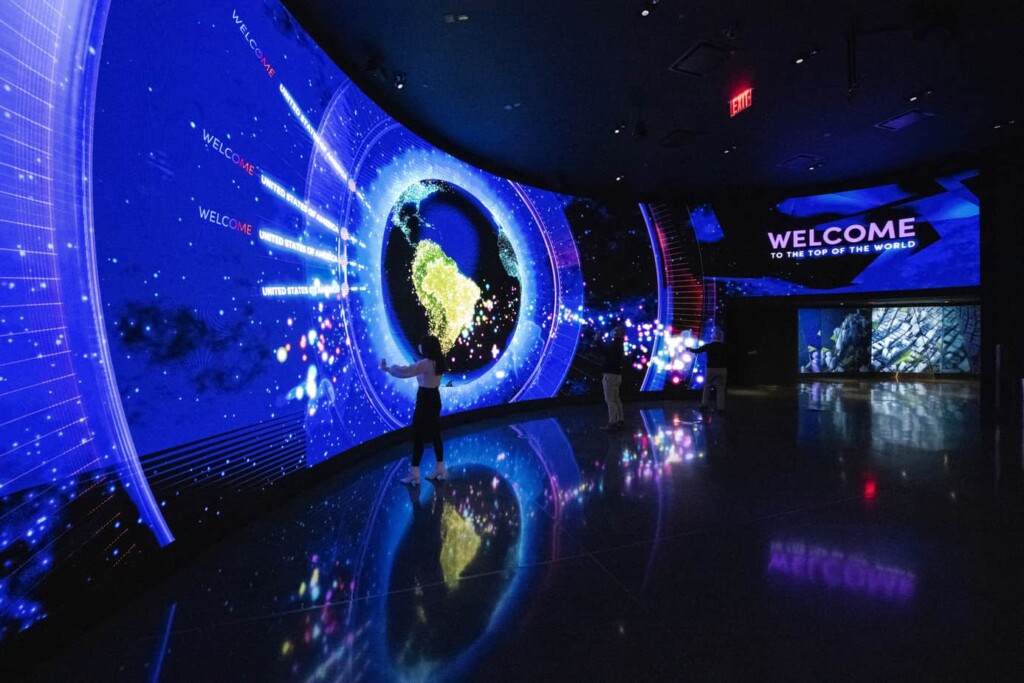 As visitors pass in front of the screen, the interactive particles follow them into the welcome area through motion activation, fortifying the connection between visitor, place, and story. The particles consist of seven colours that are recurrent in every national flag.
2) The Reflection Screen
The Reflection Screen gives visitors a bird's eye view of One World Trade Center using stylized 3D content. The ambient content serves as a transitional piece within the physical space, and as a visual introduction to the One World Trade Center building. Float4 designed the content to match the unusual screen shape, creating an optical illusion of broken, coloured glass.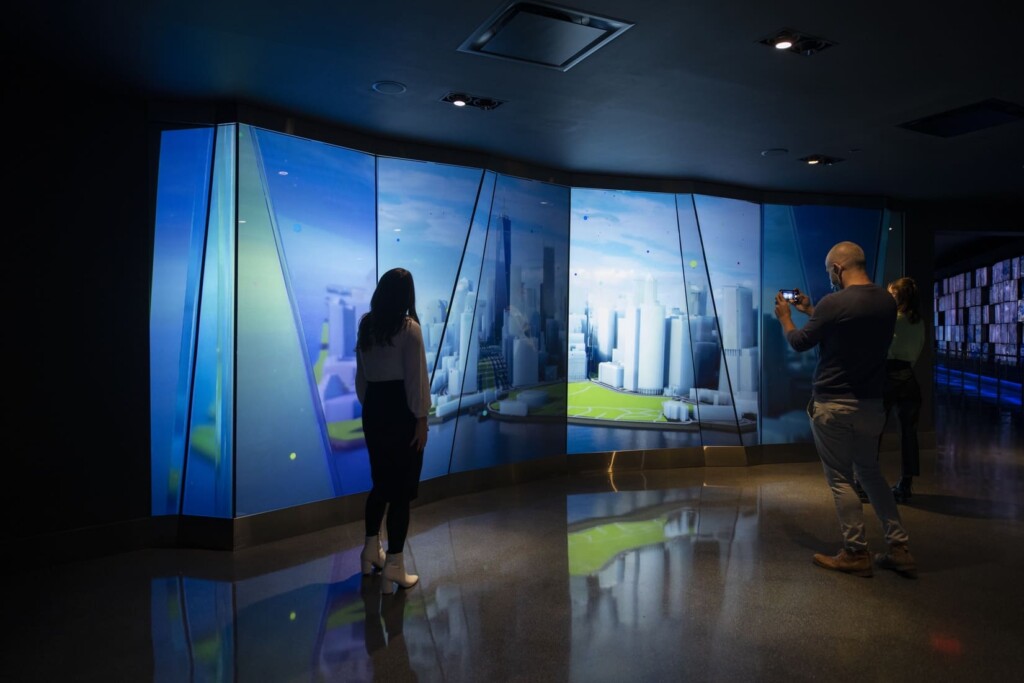 3) The Horizon Grid
The Horizon Grid is a digital mosaic composed of over 140 square LCD displays and presents a brief history of lower Manhattan through a thoughtfully animated visual journey. Using historical footage combined with 3D animations, motion graphics and a custom soundtrack, this journey through time introduces a series of events and locations that can be seen from the observatory.
4) The Portal Wall
The Portal Wall is the last in the visitor's journey to the SkyPods™. It presents a contemporary view of the World Trade Center Plaza, including some future developments such as 5 World Trade Center and the Perlman Center for the Arts.
Float4 also updated the content in the box-office and kiosk displays, and integrated data-driven content to inform the visitors of the visibility at the top of the building in real time.