Small footprint, tight budget, AND you want to add a marquee water slide attraction that's unique too?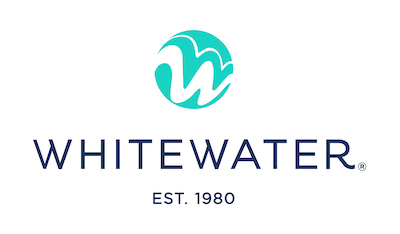 Up until now, racing slides can be found in two forms: open and rolling slide paths that go straight down to the finish or a second type that adds in separated enclosed flumes that twist and turn.
Now imagine two riders racing down their own lane, being able to check if they are ahead or behind and yell at each other during the race, even on curves and in enclosed sections.
Parallel Pursuit's innovation lies in its lower separating walls that allow opposing racers to see and hear each other throughout the ride, even on turns, which is a first for racing slides—all in a flexible small footprint configuration, with a price tag that is surprisingly affordable.
Available as either a mat or a body slide, so headfirst or feet first, Parallel Pursuit creates a one-of-a-kind, true side-by-side racing experience through low separating walls that have been thoroughly tested for the comfort and safety that WhiteWater is known for. These low dividers contain each rider in their lane through straight segments and hairpin turns, in both open and enclosed sections, in speeds of up to 32 kph (19 mph).
With the interactivity that Parallel Pursuit offers, guests are even more motivated to compete with each other over and over again.
Parallel Pursuit is not only a crowd pleaser, it is designed to be highly configurable in height, length, ride position, thrill level and visual effects to the needs of your water park in the space available. Parallel Pursuit can be stand-alone or easily added to an existing slide tower to fit in the tightest of footprints and around existing structures.
Side-by-side racing from start line to photo finish, Parallel Pursuit is pure water slide fun.
It is a competition slide for two adults or older children.
Riders are sent down one flume in two separate lanes that are divided by low walls that safely contain each rider, through straightaways and turns, in open and enclosed sections.
Riders can reach speeds of up to 32 kph (19 mph).
These low dividers allow for more shared experiences than other racing water slides on the market, giving riders a chance to see each other as they race, hearing each other's laughter echo in the shared enclosed sections.
Parallel Pursuit is highly configurable.
It is available either as a mat racer or a body slide, so headfirst or feet first.
It has no height limitations and can fit into a tight footprint.
It can be a stand-alone ride or added to an existing slide tower or play structure.
You can vary the thrill level, with different slide paths, drops, a mix of light and dark segments, and visual effects.
You can mix and match the joint parallel sections with separate tubes that keep individual riders in suspense.
The first installation of Parallel Pursuit is in the planned community of Nocatee Florida and opened in June 2021. Named "Twin Falls" in their water park, the interactive nature of the racing slide is getting people to queue up for more, to "beat you next time!" It's a ride experience that engages all of the senses.
Two riders lay headfirst on mats, each propelled into their own enclosed AquaTube. The slide quickly opens to reveal side-by-side racing, as riders lock eyes on the turn and shift their weight, trying to inch ahead while reaching speeds of up to 32 kph (19mph). Then they drop into separate, enclosed AquaTubes again, feeling the suspense as they guess where their opponent is at. When the slide opens again to bring the competitors back side-by-side, each rider is surprised to find that they have switched lanes. They continue the parallel racing, this time, in an enclosed flume with a low separation wall through a thrilling turn. One rider hollers like they are in a cave while the other one laughs, as they photo-finish next to one another in the run-out lane and argue about who actually came first.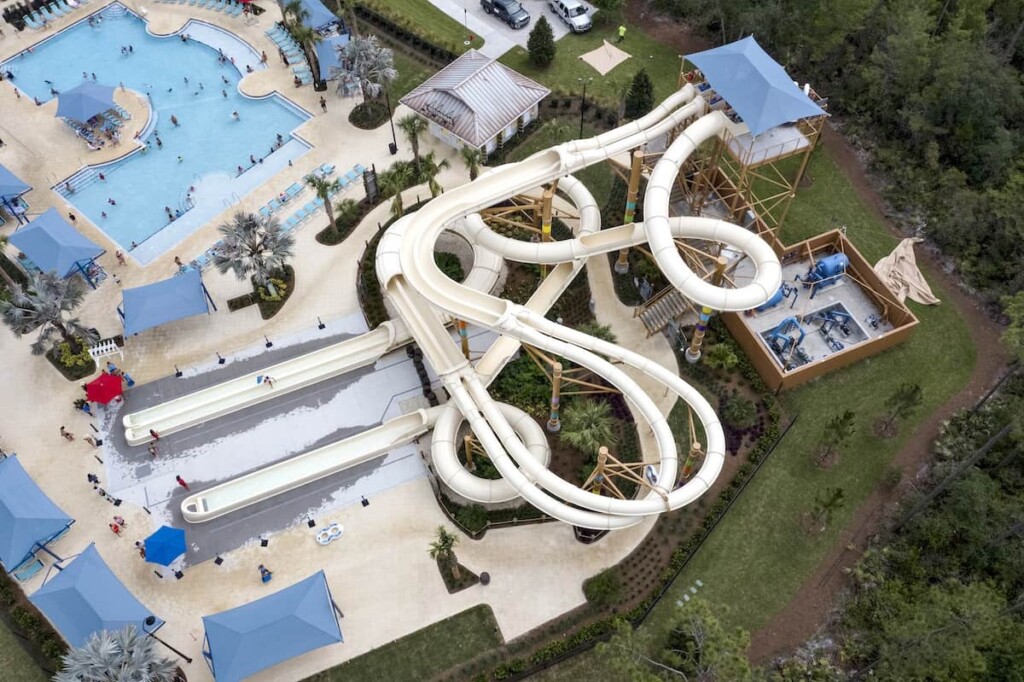 While Parallel Pursuit is a thrill for the senses, the low dividers that allow the racers to see each other are built with proprietary simulations and extensive testing to ensure rider containment throughout the path. Striving for perfectly fair competition, WhiteWater's engineers painstakingly made sure that one lane is not more advantageous than the other.
With Parallel Pursuit, WhiteWater has introduced a new concept of racing water slides.