Are you providing everyone with the same visitor experience without knowing it's the right fit for them? Sensape wanted to change that and so created personalized experiences using artificial intelligence to recognize the age, gender and emotion of the targeted person.

The devices catch the customer's eye by a mirror effect on a large display and greets them in real-time with a persona-appropriate message or augmented reality world tailored to them. Customers see themselves on a large display and become attentive. Within the display, a whole AR world appears where customers can interact with different styles and 3D face elements. Due to the persona recognition feature of the AI, the AR world includes individual information and also rewards such as coupons for the customer.
For our proof of concept, we developed a solution for Pernod Ricard that recognizes customer personas in the supermarket and then recommends the appropriate drink and immerses the customers in an interactive AR world with 3D face elements. So through the recognition software, the customer gets personalized information such as a product recommendation, matching recipes and a voucher.
The solution can be applied in any area, including theme parks or museums. Thanks to the recognition software, visitors find themselves in interactive AR worlds that match their appearance, can experiment with 3D face elements and use them to create their own personal photo. Via a QR code, they can carry the user journey further on their smartphone, where they can get more information and share the photo with friends on social media. Our clients get more sales of their products, brand interaction, user-generated content on social media and more.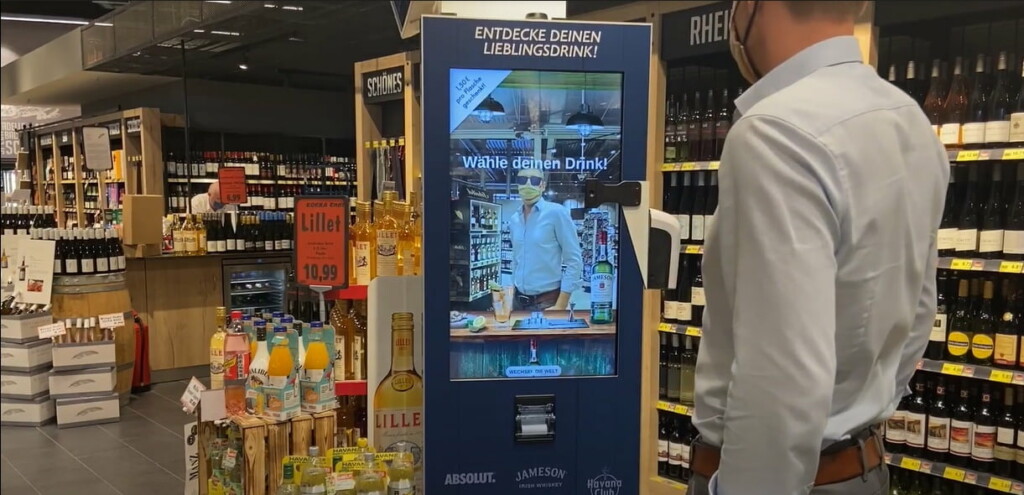 Innovation features
New way of approaching/interacting with visitors
Self developed AI for individual information for each visitor
Based on persona recognition
AI recognizes age, gender, emotion, height
AR worlds create an immersive experience
Visitors find themselves in an interactive AR world matching their external appearance
Visitors can interact with 3D face elements such as hats, glasses, coats or whatever item their persona has
Immersive experience
Photo opportunity → social shares → visitor-generated social media content
Couponing could be used to shift visitors to another point of interest, for example the shop where they can receive their photo printed or receive discounts on shop items
AR worlds leave various experiences: posing with your idol, VIPs, designing your own fantasy outfit, capturing photos/videos in immersive worlds