The Arena provides a limitless multiplayer experience with no wires and seamless tracking. It transports the whole family to another world and unlike traditional games consoles that have complicated controls, the SPREE Arena could not be easier, you are the controller. The SPREE Arena improves the experience of children, teenagers and families in a multitude of venues by offering unique educational and fun games that can transform the smallest space into outer space. These games bring everyone together helping players to develop trust, relationships and knowledge in a fun way.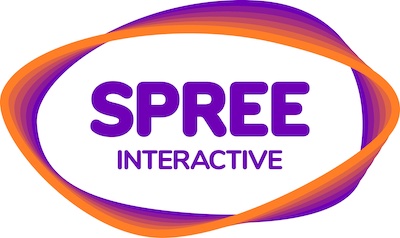 The 6-player SPREE Arena is also equipped with proprietary, patented sensor fusion technology, for a frictionless, immersive virtual reality experience. This technology enables complete free movement for up to 6 players with simply 4 sensors in the corner of any space, untethered and no backpacks needed!.
The transformation from 24 tracking cameras to 4 lighthouse tracking sensors, makes the SPREE Arena more advanced and affordable to operators who aim to provide entertainment in their communities. These sensors enable the 6-player SPREE Arena to be a highly responsive multiplayer VR experience allowing players to use intuitive controls and transform that into exciting interactions in the virtual world.
The leading issue in the VR world is orientational drift. Drift causes the orientation of a device to move away from its real-world value over time, due to small errors in the sensors of the device. In a multiplayer environment that heavily relies on people being able to see each other accurately, inaccuracy causes a lot of issues. More recent devices have inside-out tracking that uses cameras. These cameras estimate the position of the headset in relation to their environment, headsets by themselves simply do not know how they relate physically to other headsets.
Unfortunately, cameras are limited in resolution and once again, small errors in the positioning aggregate over time, which is exacerbated without calibrating. 
The SPREE Arena solution to the drifting of headset sensors is very simple: with Sensor Fusion technology we constantly measure the error in the system and correct it through a supportive and lightweight tracking system. This guarantees the most accurate positioning and orientation of the player possible. This supportive tracking system provides even more benefits to the user: There is no need to calibrate the headsets individually, an issue that systems without supportive tracking are facing. Players are simply able to jump right into the game after putting on their headsets. Self Calibration means there is no need for the operators to re-measure the system, a process that more heavy tracking technologies require almost every morning. The tracking sensors can be installed on walls or the ceiling, in an unobstructive way.
This ease of use and lightweight approach allows the operators to really focus on what's important: providing immersive and fun virtual reality experience to the most players possible.