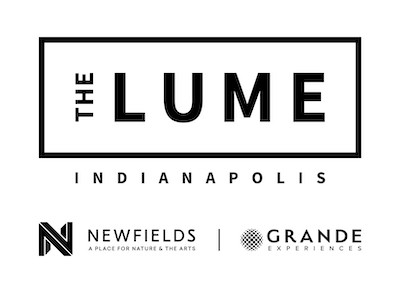 THE LUME Indianapolis transforms the entire 4th floor with nearly 30,000 square feet with an immersive multisensory digital art experience. The experience integrates all the senses – one's kinaesthetic sense of space, visual, audio, aroma, touch and taste.
Grande Experiences, have pioneered the creation of multisensory experiences for more than 15 years, having displayed over 200 times across 6 continents, in 32 languages to over 18 million visitors.
The content of THE LUME Indianapolis will rotate annually with the technology and infrastructure remaining permanently. Grande will curate annual experiences to include other master artists, as well as co-curating with Newfields emerging artists. The first year's content will feature the artworks of Vincent van Gogh, with images displayed from floor to ceiling by the 118 high-definition projectors.
The innovation extends beyond the digital projection to include a synchronised evocative musical score, delicate aromas throughout the venue, digital interactive touchscreens where visitors can take a photo of themselves in the likeness of Vincent van Gogh. They can share their creation to the display wall. Further digital displays have motion tracking cameras that control the focus on the digital image and highlight the detail and brushstrokes in the image. There is also the "shoot and share" room where visitors can take selfies in the set of the Van Gogh bedroom, as well as a fully themed café with a Van Gogh inspired menu.
Newfields is on track to double its annual visitation with the addition of THE LUME Indianapolis.
Features
Fully immersive digital experience with 118 high definition projectors
Interactive touchpads capturing visitors photo allowing them to augment the photo in the style of the artist and publish it to the gallery wall
Digital screen that includes motion sensing cameras that allow the visitor to gesture toward the specific artwork and control the focus to be able to zoom in the focus of the artwork to highlight the magnificent detail in the artists brush strokes.
More information can be found here.
Partners
Grande Experiences
Newfields