Since no guest harnessing occurs, throughput capacity is greatly increased and only 1 – 2 staff members are needed for operation. The ride's slim dimensions ( +/- 93 sm, 1,000 sf) accommodates a single guest free-fall or, can be expanded to allow multiple guests to experience free-falls at varying heights.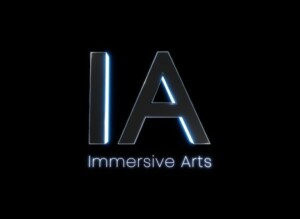 The fall system can be purchased with a truss and stair system (as illustrated in the provided photos) or sold independently to be integrated with other platform-based attractions (i.e. rope courses, zip lines, ninja courses, climbing walls, etc.) and media-based experiences (Projection Domes/Walls, LED Panels and VR). The ride structure and components can be customized to incorporate a facility's branding and visual aesthetic. An RFID tracking camera system can be integrated into the product in order to generate branded viral content for guests to share on social media.
The unharnessed fall system by Immersive Arts, is an industry-first, patent-pending product with ride engineering and 3D renderings completed by Celtic Engineering. Safety requirements were at the forefront of design considerations, which led to a three-tier safety system. A leading international airbag manufacturer advised our development process and approved the use of their airbag within our patent-pending fall system. Our three-tier safety system utilizes ground breaking technology and design to allow guests to experience a free fall sensation in a safe manner, regardless of whether the product is used in a fully-lit or dark environment.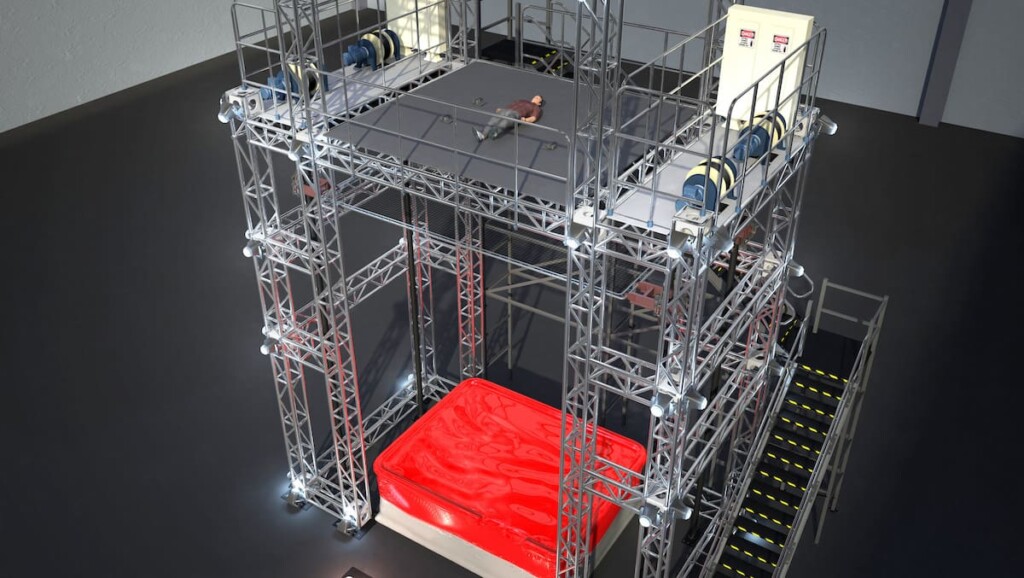 The three tiers of safety provided by The Unharnessed Fall System are part of a patent-pending integrated design approach featuring sensors, a programmable logic controller, a trap door, a dynamic net apparatus, and an airbag. The fall system begins with an unharnessed guest lying down or sitting over a closed trap door. Once the safety net is confirmed to be in its starting, rest position, the operator will be able to trigger the trap door initiating the guest's descent.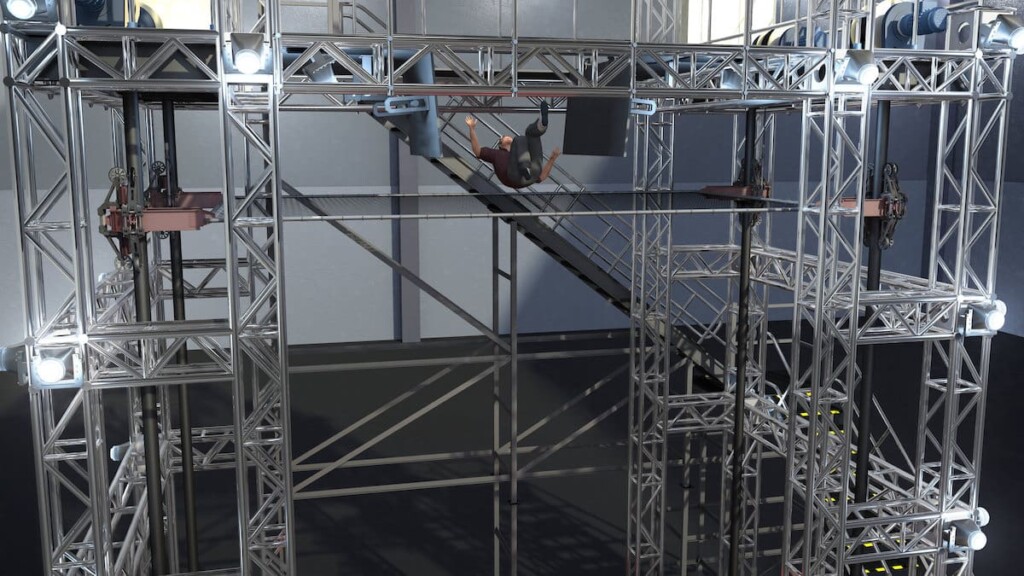 At five feet, the net will deform and begin positioning the guest's body into the airbag entry position as it travels with them during the descent. Sensors detect and measure the guest's fall speed, allowing the net and guest to descend in unison while maintaining the feeling of a modified free fall. Once the net and guest complete the fall, any remaining momentum is absorbed by the airbag in order to ensure a controlled landing. After sensors and the programmable logic controller signal that the guest has left the ride, the net ascends to the starting position and the airbag re-inflates.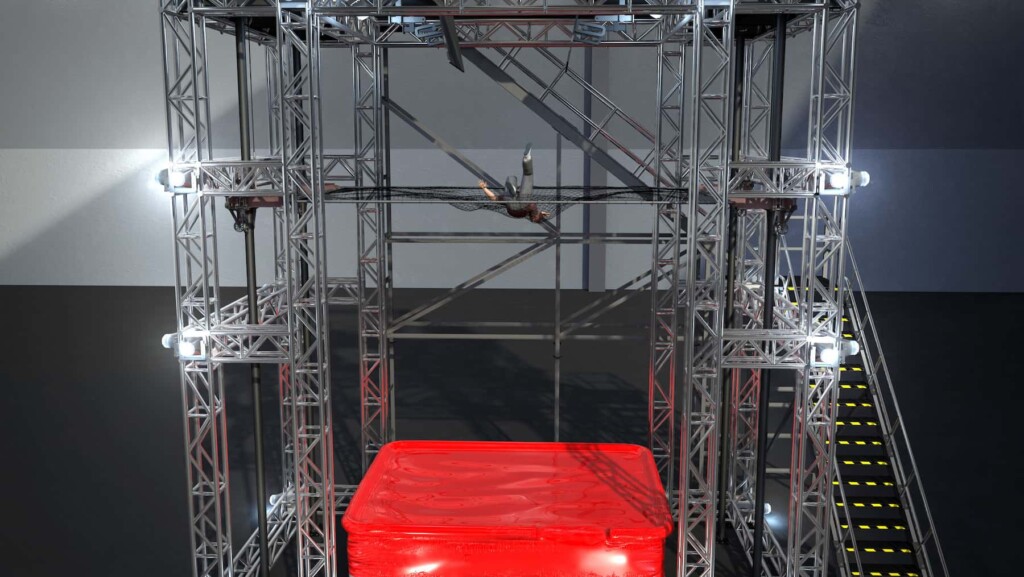 This innovation differs from current offerings in the attractions industry which typically harness or restrain the guest in some fashion or require no harness. Harnessing the guest reduces throughput and thrill while requiring significant operational oversight. In addition, allowing an inexperienced guest to jump unaided from a high height into an airbag, net, or foam pit can lead to significant injury.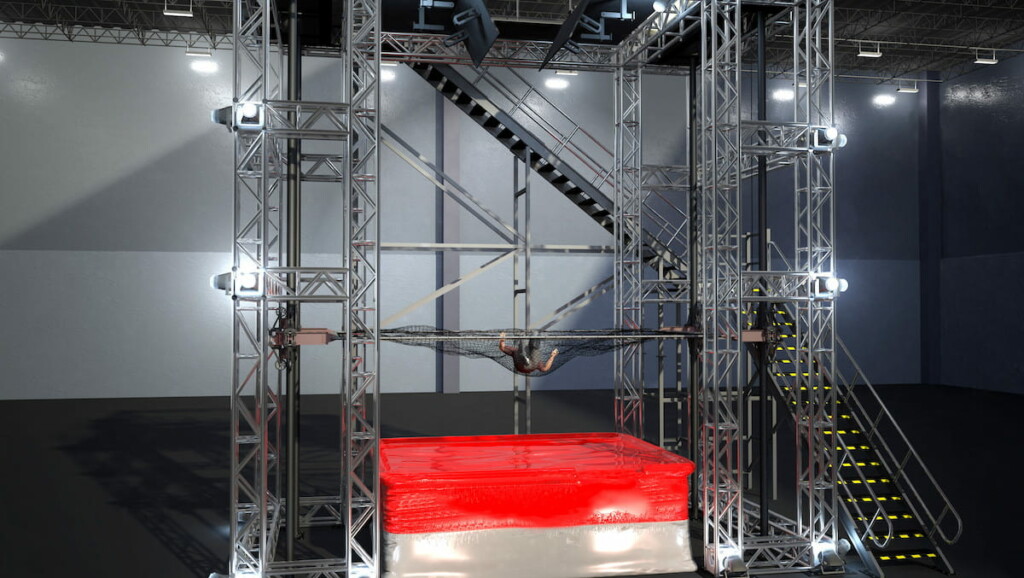 Beyond traditional ride applications, the Unharnessed Fall System can be used for thrilling transportation and media-based experiences. Since the Unharnessed Fall System does not require any guest harnessing, it can be used as a safe, efficient, and thrilling way to transport guests to the ground floor from higher viewing platforms (or floor levels) at any destination. By utilizing sensory technologies and a 360-degree projection screen (or 360-degree LED panels) situated on/above the platform where guests lay/sit down, a fully immersive storytelling experience can unfold with a truly unexpected drop occurring at the end of the show. In addition, VR can be integrated as a standalone add-on for the ride, or the ride system can be utilized by walk-through VR experience providers to add new thrill to future offerings.
It is estimated that the cost of a single installed fall system including the truss and stairs will be in the range of $200,000 to $300,000. The cost will vary depending on the height of the fall in which the facility desires, specific facility related requirements (i.e. indoor vs outdoor), and manufacturing details. Our product has a very high degree of thrill for the required floor space ( +/- 93 sm, 1,000 sf) and development costs.