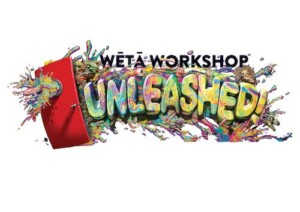 For over 25 years Wētā Workshop have applied creativity and craft to blockbuster movies, consumer products, tourism attractions, interactive projects, and location-based experiences.
In December 2020 we opened the doors to a new visitor attraction in Auckland, NZ, inviting guests of all ages, from the curious to the creative, from the family-friendly to the thrill-seeking on a guided journey into a Fantastical film effects facility.
We enjoy sharing our love of making with as many people as possible with the hope that it ignites imagination within those who engage with our work, and we are excited to submit Wētā Workshop: Unleashed into the three Blooloop Award categories – Immersive, Interactive, and Storytelling.
Storytelling is as the heart of everything we do and within our experience we have invented three original film concepts from the genres that we love – horror, fantasy and sci-fi. Visitors journey through the experience in an unfolding immersive narrative, interacting with the hands-on physical models, props, and effects we have imagined and created for these movies.
COVID has changed so much for everyone these past 18 months, and when our borders shut leaving the New Zealand tourism industry questioning the future, we made the decision to continue to design, build and bring our vision for this experience to life. We believed that sharing our creative story in the hope that it may bring joy and inspiration to others in fun, educational and engaging ways would be good for the world.
For now, we hope you enjoy looking through the supporting materials. At the very least, we hope sharing our work with you is a reminder of how fulfilling the creative process truly is.
On behalf of Wētā Workshop, Thank you
In building Wētā Workshop: Unleashed we wanted to give fans and visitors an opportunity to take a deeper exploration into the world of cinematic special effects.
For over a century, film-goers have enjoyed the results of special effects in the finished film. As the industry grew around the evolution of special effects, stories of how these effects were made were captured in "behind the scenes – making of film featurettes". These Behind-the-scenes film featurettes became a window into how the movies were made and allowed fans, students and industry professionals to engage with the creation of the cinematic process. At Wētā Workshop: Unleashed we wanted to go a step further, and immerse people in the craft, the creativity, and the magic of the film making process all at once.
We believe there is a maker in everyone and by blurring the boundaries between the artistic, the technical and fantastical film making process, visitors are inspired to learn and learn to be inspired.
If you'd like to take a further look at Wētā's experience and live in NZ, click here. Additional information can be found here.