We have welcomed over 2 million visitors through the doors of three locations in the last year, announced two new permanent exhibitions, hired a new CEO and now employ nearly 1,000 people. Our recertification as a B-Corp, leadership shifts to better suit our artistic mission and vision, and investments in new ways of bringing creativity to the ever-changing experience economy make Meow Wolf one of a kind in the experiential art world. Our exhibitions bring the opportunity to examine ourselves, our community and culture, and our place in the universe.
We are also on the precipice of understanding and answering the call to create transformative experiences for an even larger audience–an audience not walking through our physical doors. We've developed an internal studio incubator as a space to generate raw ideas of mind-bending experiences, petri dishes of thought, to ensure we are continuing to spark imagination as we grow. This allows us to keep true to our artistic roots, and reexamine how to "be."

Additionally, we are thrilled about the development and opening of two new physical locations in Texas: Grapevine in 2023 and Houston in 2024.
Meow Wolf is known for its inclusivity and support of historically marginalized communities; we describe ourselves as a "social impact art project fueling a business and a business fueling a social impact art project."
Meow Wolf continues to set the standard for immersive art. As the Dallas Observer recently noted, "Meow Wolf walked so the Insta 'museum' could run." Few immersive experiences now open without reference to Meow Wolf and we couldn't be more honored. In that light, we are working on bringing forth new ideas in a hyper-focused way. To avoid diluting our creative identity and culture, we are working on a subset of experiences that resonate with the foundation of who we are. Our founders and leaders are creating processes and hiring individuals with skill sets that allow for new ideas, brainstorms and blue sky scenarios. This type of creative incubation is how we will continue delivering the unexpected.
At a Meow Wolf exhibition like House of Eternal Return, Omega Mart and Convergence Station, visitors can truly suspend their disbelief because of the thoroughness of the creative world brought to life. Devoid of derivative or franchise, our unique IP expressed in sound, art, performance, monumental sculpture, and content induces visitors into our – and their own – imaginative play experience.
SANTA FE–HOUSE OF ETERNAL RETURN
The New Mexico-based arts collective Meow Wolf's first permanent exhibition will unveil three new permanent installations in Fall 2022, including a collaboration with Native artist Virgil Ortiz and artists Lauren YS (Squidlicker) and Jacob Fisher. The new rooms are part of Meow Wolf's ongoing exhibition evolution program that will offer visitors new experiences annually.
In particular, Virgil Ortiz is known as one of the most avant-garde artists of his time, fusing his Pueblo culture with sci-fi, fantasy and apocalyptic themes that yield provocative and futuristic imagery, challenging societal expectations and breaking taboos. Growing up on Cochiti Pueblo, just south of Santa Fe, Ortiz learned about art in an environment of storytelling, collecting clay, gathering wild plants and producing figurative pottery. Recently named the recipient of the 2022 Museum of Indian Arts and Culture's Living Treasure Award, Ortiz considers it his mission to create global awareness that Pueblo communities are very much alive and vital.
Ortiz's new exhibition in particular is a wonderful representation of Meow Wolf's conception of alternative realities and amplify the voice of a local, Native artist.
Ortiz's installation is titled Sirens: Secret Passkeys & Portals and features a cast of characters from his Revolt 1680/2180 saga—an ongoing project Ortiz has been working on for the past two decades. Revolt 1680/2180 is the vision of a dys­topian future 500 years after the Pueblo Revolt in which time-travelers return to the era to aid their ancestors. They quickly gather the survivors and search for any remaining clay artifacts from the battlefields, realizing that challenges and persecution will continue, making the preservation of their clay, culture, language, and traditions from extinction imperative.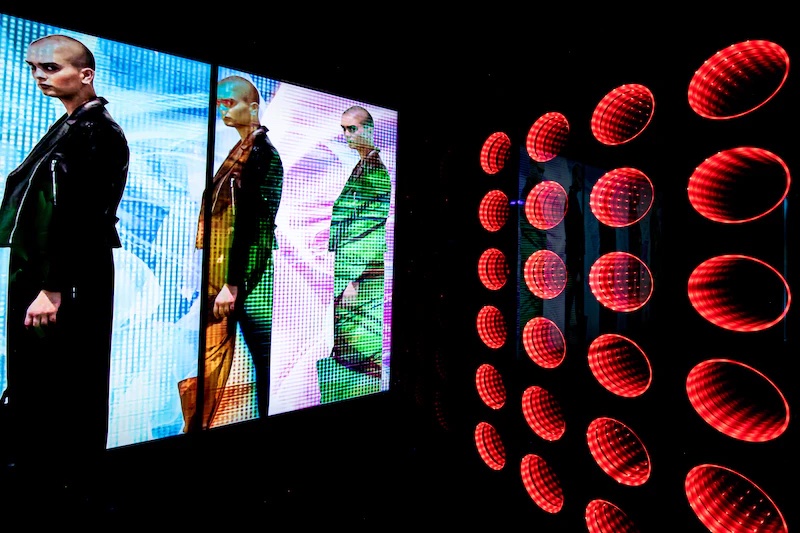 Native artist Virgil Ortiz. One of the most innovative artistsMeow Wolf is committed to exhibit diverse voices and Virgil Ortiz's fusion of his Pueblo culture with sci-fi and fantasy is essential, provocative and timely. On an aesthetic level, his room will continue our tradition of sparking wonder and visual intrigue with his fusion of Pueblo history and ominous themes in pottery, paint and video. His art is in so many ways his identity, and sharing that identity and voice through his art is in lockstep with the mission of Meow Wolf to bend minds, to inspire play and to reflect and imagine new types of worlds.
Virgil's work is literally born out of the ground he grew up on–he learned about his history and the art of his ancestors by working in clay, gathering wild plants and telling stories before he conceptualized these things as his own works of art. His sense of place–that rooted, physical approach to his art–in combination with both a forward and historic vision of his people, makes his installation an incredible lens through which others can examine themselves, their concepts of Native art, and the importance of indigenous artists in the future.
DENVER-CONVERGENCE STATION
Eemia, or Ice World–a mind-expanding wonder. It is one of four fictional worlds at Convergence Station, an immersive art exhibition created by Meow Wolf that opened in Denver in Sept of 2021 and hosted over a million guests in its first nine months of being open. Within Eemia, a world caught in a 1000-year ice age, there are interactive elements that guests can explore; this award-winning world features the ability to open up a wormhole in the starry sky. The Kaleidogothic Cathedral stands tall at the center of Eemia: in Meow Wolf lore, it is the collective last ditch effort to erect a visual shrine to an entire civilization on the brink of extinction. It was entirely built in Santa Fe, disassembled, shipped to Denver, and rebuilt as an anchor of the 90,000 square foot immersive art exhibition with four worlds, and 79 installations by 300 artists.
A world that was once celebrated as a place of joy, whimsy, and technological artistry became fiercely treasured when the brainchild of Eemia, Meow Wolf founder Matt King, passed away unexpectedly in July of 2022. He was 37 years old. As one of the early founders of Meow Wolf, King was responsible for Eemia as well as many other installations in all three existing locations at the time: House of Eternal Return, Convergence Station, and Omega Mart.
Today, each time a guest opens up an Eemian wormhole in the sky, it's a tribute to King's magical, maximalist, joyful spirit and a life that he dedicated to wonder.
"What we want is for people leaving to walk out questioning what is real, what is reality?" King told Artnet in an interview in Oct 2021. "Who am I, and what am I? What can I really do to make a positive change in the world? We're not dystopian, that's not our outlook….We have the ability to spark the imagination and then turn this thing around. Eemia might seem on the surface doom and gloom, but if you really dig into it, it is hopeful and we will resolve their story in the future in a positive way."
GRAPEVINE (2023) and HOUSTON (2024)
In our two new locations in Texas, we have gone back to our roots by collaborating with local Texas creatives to bring the exhibition to life, while creating hundreds of jobs in the process. Meow Wolf developed a list of criteria that led us to choose Texas, including diversity, with Houston ranked as the #1 most diverse city in America. The locations have been in the works for over two years, motivated by large, multicultural populations, the love of a mall experience leading them to Grapevine, and the emphasis on the arts in Houston. We plan to work with hundreds of artists, both local to Texas and from their headquarters in Santa Fe, New Mexico, to create the next immersive experiences.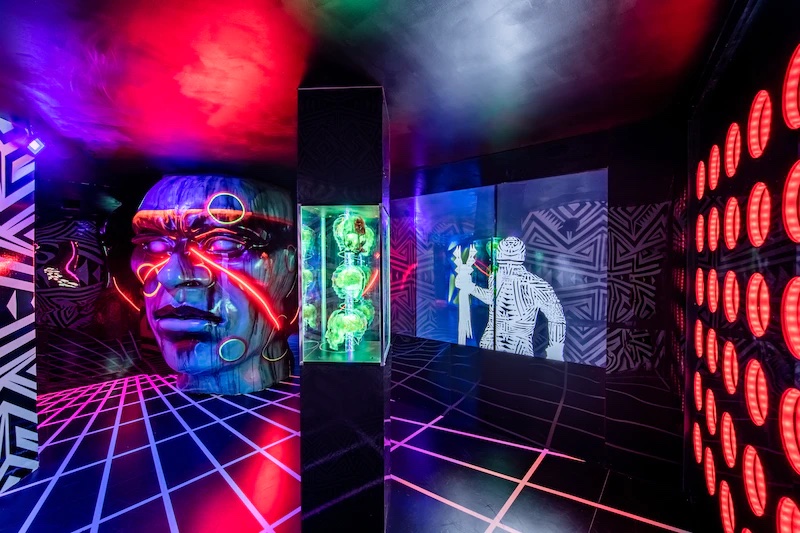 Our commitment to working with local artists in all of our locations led us to hire a full time artist liaison in Texas in order for us to better build relationships within the local creative communities. We recently announced over 30 emerging and established Texas artists who will be contributing to our Grapevine exhibition. We also expect to hire in excess of 100 full time employees in Grapevine.
B-CORP STATUS
This year, Meow Wolf was recertified as a B Corporation and majorly increased our score to 110.3, a 37% increase from our first certification in 2017. We did this through a series of targeted measures to support our community, our employees and our customers.
B Corporations are fast tracking the move from business as usual, to using business as a force for good. Meow Wolf is doing this through a variety of actions, including:
All employees are paid 100% individual living wage
Invested more than $2M into nonprofit organizations
Completed our first carbon footprint assessment in 2021
Implemented vendor procurement screening with social and environmental performance
Formal community plan which prioritizes stakeholders from historically marginalized groups, including people with disabilities, veterans and people of color
Contracted more than 200 independent artists to work with us in 2022
Formed the Meow Wolf Foundation, an independent 501(c)(3) organization, to expand our positive impact in the communities we serve
Our overall employee base has increased significantly to support expansion efforts. While the pandemic reduced our staff to 300, today, we have nearly 1,000 employees and the company is composed of 52% women, with 19 of our 35 leadership positions held by women, and 40% of our company identifying as racially or ethnically diverse. Those statistics also translate to our C-Suite, where six of nine roles are filled by women and three are held by people of color.
Meow Wolf's true innovation is bringing a sense of NOW to guests, connecting them in an effort to tap into the collective conscious of the universe. And, we are the only Certified B Corp in the Entertainment industry and have invested more than $2m into local arts communities where our exhibitions are based.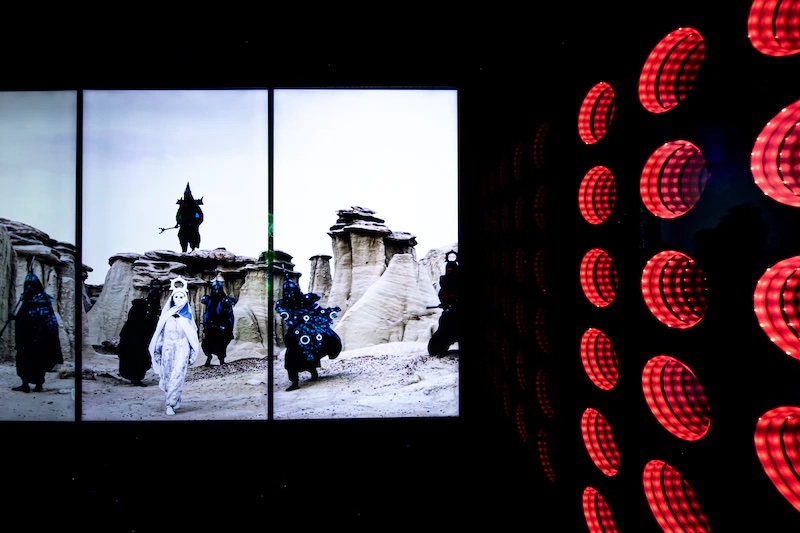 Partners
Our leadership team has definitely leveled up over the past year, hiring the above-mentioned team of experts coming from large corporations who cited Meow Wolf's unique culture and efforts at supporting artists as well as sparking imagination as their motivation for making the jump.
Jose Tolosa, Chief Executive Officer
Katie Ibay, Chief People Officer
Carl Christensen, Chief Financial Officer
John Lee, Chief Product Technology Officer
Julie Heinrich, Executive Director of the Foundation and Chief of Staff to the CEO
Amanda Clay, Chief of Exhibitions
Didi Bethurum, Chief Communications Officer
Melissa Garza, General Counsel
The team below is part of our exhibition development leadership, spearheading creative work for our Texas locations as well as current exhibitions:
Sean Di Ianni, Co-founder and Executive VP of Blue Sky
Corvas Brinkerhoff, Co-founder and Executive Creative Director of Las Vegas
Emily Montoya, Co-founder and SVP of Brand
Benji Geary, Co-founder and Spiritual Mascot
Vince Kadlubek, Co-founder and Director
Matt King (who passed away on 7/9/2022), Co-founder and Senior Creative Director
Caity Kennedy, Co-founder and Senior Creative Director
Dale Sheehan, Executive Creative Director
Todd Richins, Executive Creative Producer
Eric Piner, SVP of Project Management
Rich Staib, Senior Vice President, Design and Production
Chadney Everett, Senior Creative Director