Using eco-citizenship as its central theme, this attraction invites children to explore a fascinating and interactive space that features three distinct worlds — the City, the River, and the Forest. Each includes amusing activities that help young visitors discover their environment and learn about safeguarding it.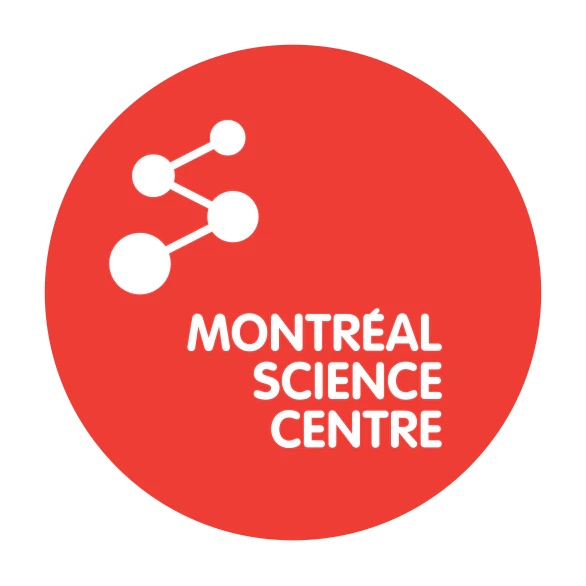 Mini Mondo's most compelling feature stems from it having been developed as inclusive and engaging for children and families from all backgrounds. It was designed using the Gender-based Analysis Plus (GBA+) process, a Canadian government tool that helps ensure that visitor experiences reflect real-world diversity and is free of barriers and inequalities for all audiences. This allowed us to identify specific groups of Canadians whose lived experiences are often sidelined —specifically, families with immigrant backgrounds— and focus on how to improve their visit experience. In real terms, this involved engaging stakeholders in multiple consultation sessions to identify barriers to inclusion (such as systemic racism, food insecurity, isolation, language, and financial instability) and start problem-solving to reduce them or avoid them outright.
The end result was the offer of an enriching experience where everyone feels included. The GBA+ process was in fact what inspired the idea of presenting the exhibition in both of Canada's official languages (French and English) as well as four additional languages chosen from among those most spoken in Montréal among new immigrant communities: Arabic, simplified Chinese, Haitian Creole, and Spanish. The exhibition undeniably reflects the cultural fabric of Montréal, and its City environment also features elements that specifically echo the sociocultural heritage of families with immigrant backgrounds, such as the great diversity of food choices in Mini Mondo's bulk food store. Diversity is also a feature of the hall's mural designs reflecting a variety of different people, be it in terms of culture, gender, age, and physical ability.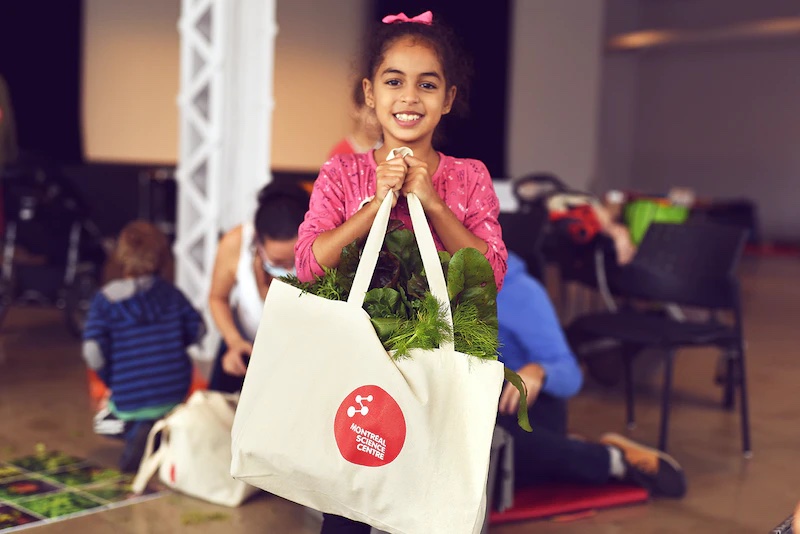 The exhibition hall also reflects the concern for accessibility that the MSC has integrated across its facilities. These include a nursing room and a family toilet to welcome and serve different kinds of family units. Mini Mondo's activities are also geared towards sensory exploration which can assist young visitors with sensory limitations make the most of their learning experience. A special visit guide was also produced to help those accompanying people with special needs assess the exhibition's environment in advance and better plan a carefree visit.
Ultimately, the process of developing the Mini Mondo experience has allowed us to breathe even more life into our mission: to welcome everyone in exploring the wonders of science and technology and to offer the next generation meaningful ways to use science to make their way into the world and into their future. Since its opening, Mini Mondo has helped the MSC engage with client segments that had never been there before. Undertaking sociocultural adaptations to better include families with immigrant backgrounds alongside universal accessibility adaptations has ultimately improved the visit experience for everyone.
GEARED TOWARDS THE WHOLE FAMILY
The concept behind the Mini Mondo exhibition was initially driven by the idea of opening up for the first time an exhibition space for children under the age of four. Its activity spaces were designed to be safe and inviting for infants, toddlers, and children up to the age of seven. Parents are also well served with facilities that welcome their entire family such as a nursing room, a family toilet, quiet areas, and a snack space. Mini Mondo's opening has allowed the Montréal Science Centre to now welcome children of all ages to explore science in all its forms and wonders.
ECO-CITIZENSHIP FOR LITTLE ONES
Eco-citizenship was chosen as Mini Mondo's central theme in light of its universal importance. Though the notion of eco-citizenship may still be abstract for children under seven, it is precisely at this young age that children begin to discover and understand their environment and learn to live within it. To readily engage with young audiences, Mini Mondo chose to present them with three recognizable environments: the City, the River, and the Forest. Each of these mini environments presents these young audiences with fun, free-play activities that raise their awareness about the world around them and the notion of safekeeping it.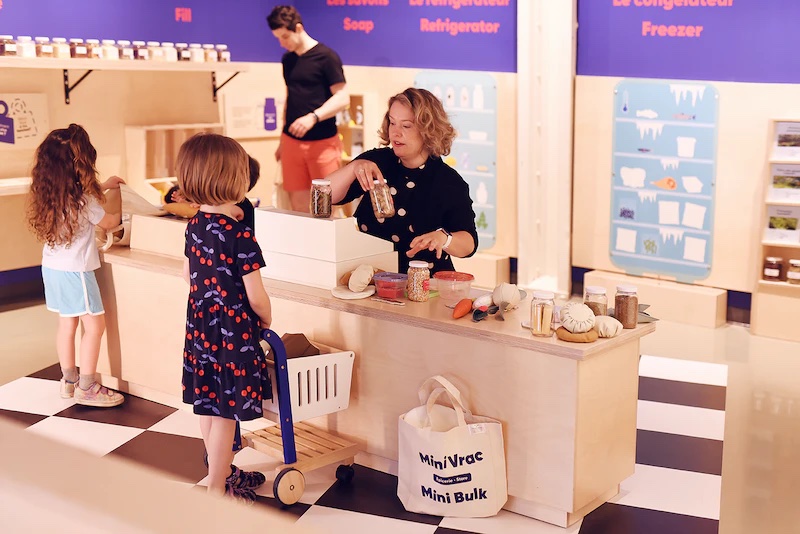 In the City environment, young visitors are presented with sustainable ways to choose food, housing, and modes of transport. In the River environment, they meet aquatic animals and species. In the Forest environment, they can explore plant life. Each environment also offers them k,llo90009m specific sensory experiences. They explore scents in the City environment, they explore sounds in the River environment, and they are offered tactile activities in the Forest environment.
DESIGNING FOR DIVERSITY, SUSTAINABILITY AND LOCAL DEVELOPMENT
The exhibition design centred around Montréal's diverse social fabric and also features the area's rich wildlife and plant life. The illustrator's approach to the exhibition hall's murals offers the Mini Mondo environment a tender touch of realism. In the Forest and River environments, species that evoke the province's various regions are featured on the murals. In the City environment's murals, cultural, gender, age, and physical mobility diversity is showcased and celebrated.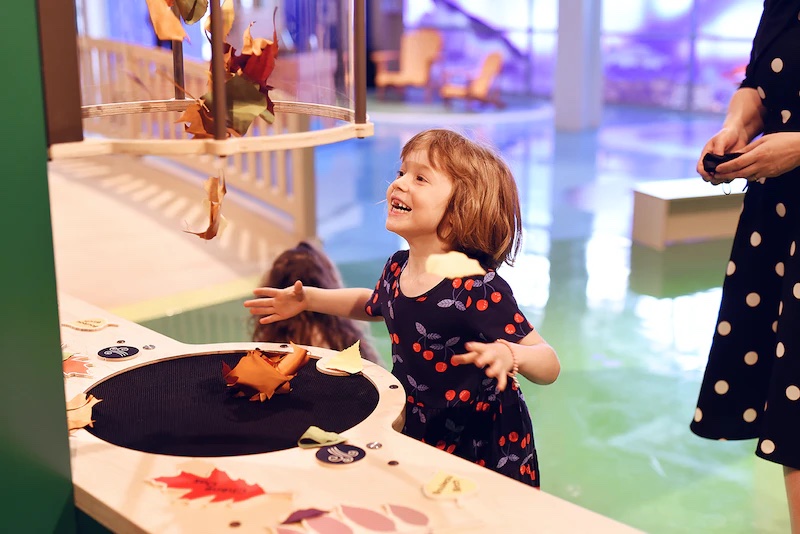 The design approach also focused on the local economy and upcycling. Many elements from the Clic! exhibition, which was once housed in parts of the Mini Mondo exhibition hall, were reused and refitted. Local suppliers were then approached to help construct the balance of the exhibition's new elements. These partners included the design firm La bande à Paul, the manufacturing studio Robocut, and MP Repro printing, each one a Montréal-based outfit. The cloth bags for the mini bulk food store were produced by a Montréal-based social integration organization serving immigrant women called Petites-Mains.
The plush toy vegetables found in Mini Mondo's urban garden are unique, custom creations of a Montréal-based boutique and workshop called raplapla. The trunks of pine found in the Mini Mondo's Forest environment were sourced from Forêt de l'Aigle, a forest in Québec's Outaouais region and the murals that adorn the walls of all three of Mini Mondo's environments are the work of Montréal's own illustrator Claudia Fortin.
CENTRED ON INCLUSIVITY
In keeping with Montréal's multicultural social fabric and its status as the province of Québec's chief city and as Canada's second-biggest city, the MSC team chose to put inclusivity, namely of new immigrants, at the heart of this new exhibition. This is precisely why it approached the exhibition's development using the Gender-based Analysis Plus (GBA+) process. As touched upon earlier, GBA+ is a federal tool that governments and organizations can use to assess systemic inequalities in their programs, as well as the ways different groups of people experience policies and initiatives. The goal of GBA+ is to create equitable and inclusive programs from the ground up. The tool has played an important role in a variety of complex projects, such as drug awareness campaigns, and has also been used to improve basic services like municipal snow removal.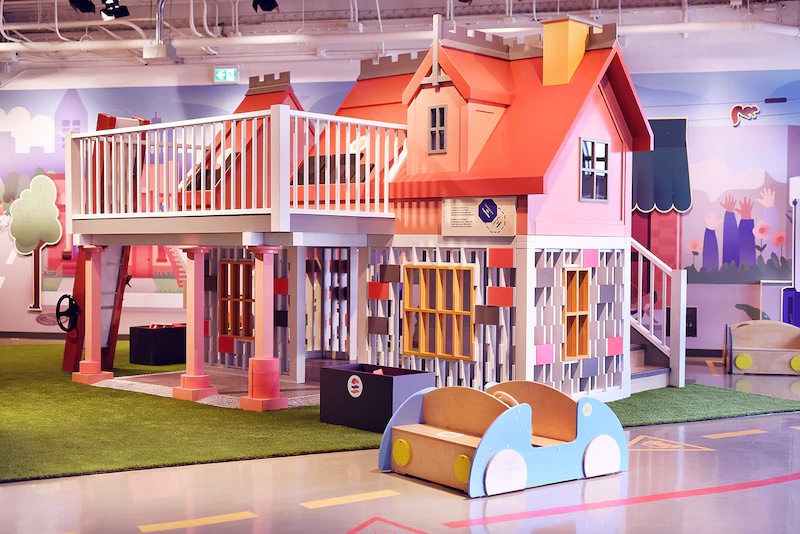 To lead the GBA+ process, the MSC called on Humain Humain, a consultancy firm specialized in urban ethnography. They helped us better understand the opportunities and challenges a museum visit can present to various members of families with immigrant backgrounds, and more specifically the opportunities and challenges inherent to the Mini Mondo exhibition's design. The GBA+ process we undertook involved seven key steps.
Identify and define the key contextual issues at play.
Look critically at any assumptions and preconceived notions that could present visitors with gender- or culture-based barriers.
Undertake research and various consultations to collect data and feedback.
Develop potential solutions and recommendations to reduce visit experience inequities.
Monitor and evaluate the impacts of solutions that were put in place and adjust as needed.
Raise stakeholders and public awareness about the project's inclusivity objectives.
Record, document, assess, and evaluate key aspects of the project.
Rigorous ethnographic data collection and a thorough review of scientific and research-based sources offered us a sound understanding and assessment of the biases and barriers tied to a visitor's museum experience.
Twelve organizations working with new immigrants took part in our consultation process and their feedback allowed us to develop recommendations towards eliminating barriers and inequities. For example, the choice to make the exhibition texts available in six languages (English, French, Spanish, Haitian Creole, Arabic, and simplified Chinese) was designed to support the role of parents within the visit experience. We also modified our original "zero waste" grocery store concept seeing as this type of store is more common in well-to-do neighbourhoods and a bulk food store format proved more inclusive for the visitor segments we were designing for. Mini Mondo's grocery store was therefore made into a bulk food store and given the name Mini Bulk.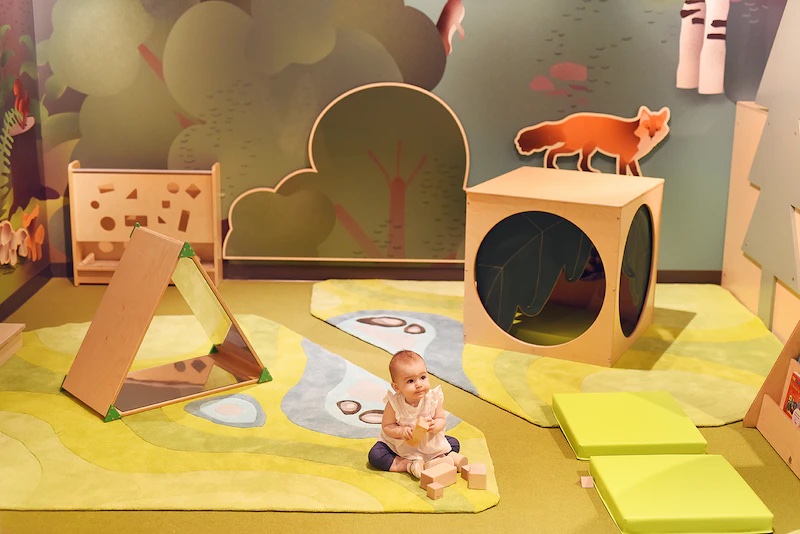 Many new products were added to the store to be more representative of the cultural diversity tied to food choices and a bulletin board was also included to showcase solidarity initiatives aimed at those facing food insecurity. Finally, discussion groups that engaged with parents from immigrant backgrounds and students from welcome classes helped us assess if our efforts in increasing inclusivity had been successful. Working with individuals from these communities was particularly enriching and —much like efforts to improve universal accessibility— the adaptations made ultimately improve the visitor experience for everyone. We are extremely proud of what we've accomplished both in terms of the process and the end result.
MINI MONDO IN THE REAL WORLD
In keeping with the focus on inclusivity that drove the development of Mini Mondo, we also gave a lot of thought into making its launch as meaningful as possible. Our press releases and marketing materials were produced in a number of languages to help us reach multiple linguistic communities. Efforts were also made to identify and invite microinfluencers from the communities the exhibition design had in mind. The most successful of our initiatives was a special event entitled Mini Menu that allowed us to engage one step further with families with immigrant backgrounds. In partnership with three community-level partners, a number of these families facing food insecurity were offered free access to the exhibition. The event also included a parent-and-child cooking workshop and concluded with a game centred around a basket of fresh, local produce.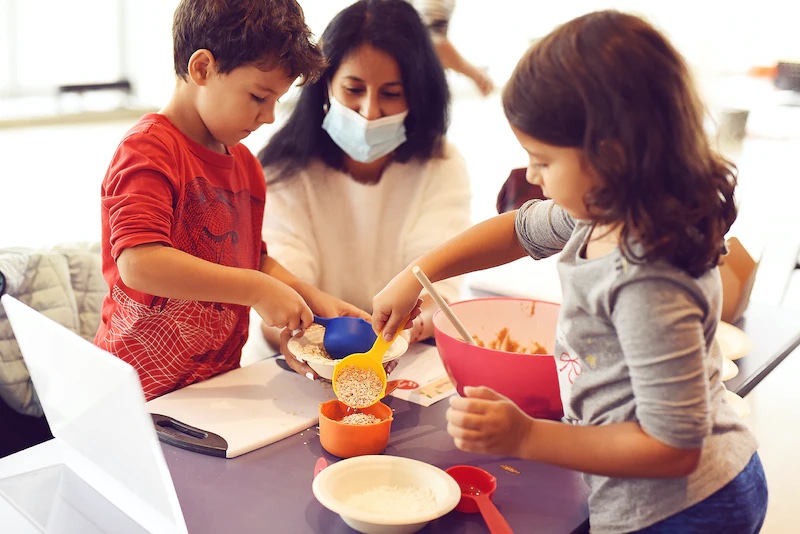 After the event, families headed home with cooking utensils, a freshly made snack, and fresh vegetables. Our goal was to offer both parents and children a fun, heartwarming day of activities they could share in as families as well as with families from other communities. The event also allowed us to have an immediate, hands-on impact on their home lives.
Offering everyone a space to explore science and technology is at the very heart of the MSC's mission. A number of other initiatives also helped us welcome visitors to Mini Mondo such as our Peaceful Morning events where young people with special needs can explore our exhibitions with their parents in the comfort of calmer and worry-free setting. These events welcome fewer visitors inside an environment with reduced brightness and noise that also features quiet areas. Parents can also take advantage of a special guide designed to help them familiarize themselves with the different exhibition hall environments in order to optimize their visit planning. The guide also outlines other available amenities such as noise-cancelling earmuffs and indicates where the family toilet and changing place are located.
These Peaceful Morning events were specifically designed to enhance and promote inclusiveness and make the MSC a place where everyone can have fun discovering the wonders of science and technology, no matter their individual limitations.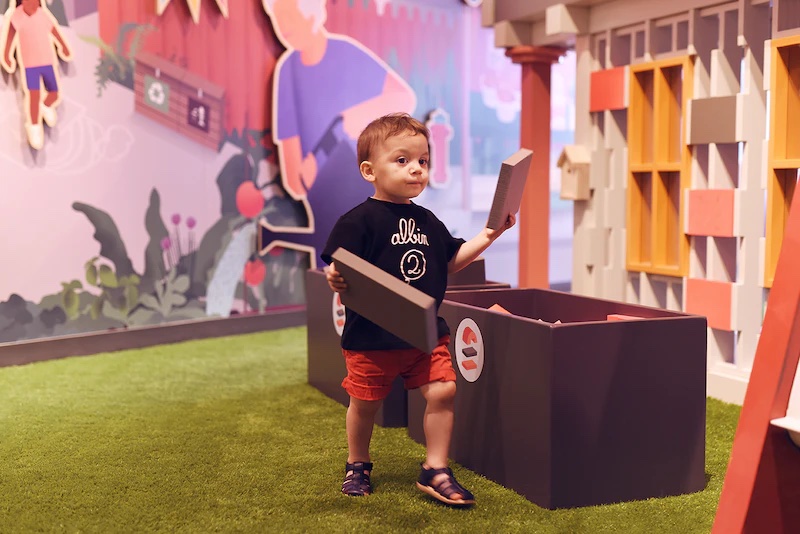 A HIGH-VISIBILITY ATTRACTION
Since the launch of Mini Mondo in September 2021, the MSC has welcomed over 197,000 individual visitors and 65,000 school group visitors. A third of these visitors, totalling 87,000, explored the Mini Mondo exhibition. This far outweighs the popularity of our previous exhibition designed for young audiences. Over its projected eight-year run, we estimate that Mini Mondo will welcome 700,000 visitors, from children and parents to visit companions alike. That's a great many budding eco-citizens to help sway the choices of the adults around them!
The exhibition also piqued the interest of the media, the general public, and our institutional peers. Specifically, Mini Mondo was awarded the 2022 Prize for Excellence by Québec's museum association (Société des musées du Québec) and, together with graphic design studio La Bande à Paul, also received two prizes at the 15th edition of Québec's Grands Prix du Design Awards (specifically the Kids Zone Gold Certification in the Special Awards category and the Culture, Sports & Leisure Silver Certification in the Museum and Gallery category). Our focus on inclusivity in the development of this exhibition is on everyone's lips and we are both proud and motivated to help peer institutions learn more about and adopt this approach. What's more, MP Repro, the exhibition's printing partner, won first prize in the Display category at the 2022 Gutenberg Gala for the quality of its work.
As the GBA+ process comes to an end for Mini Mondo, it is only just beginning for the Montréal Science Centre. The process has enabled many of our employees to become aware of their own blind spots and has generated new opportunities to promote an increasingly authentic form of inclusivity across all our programs.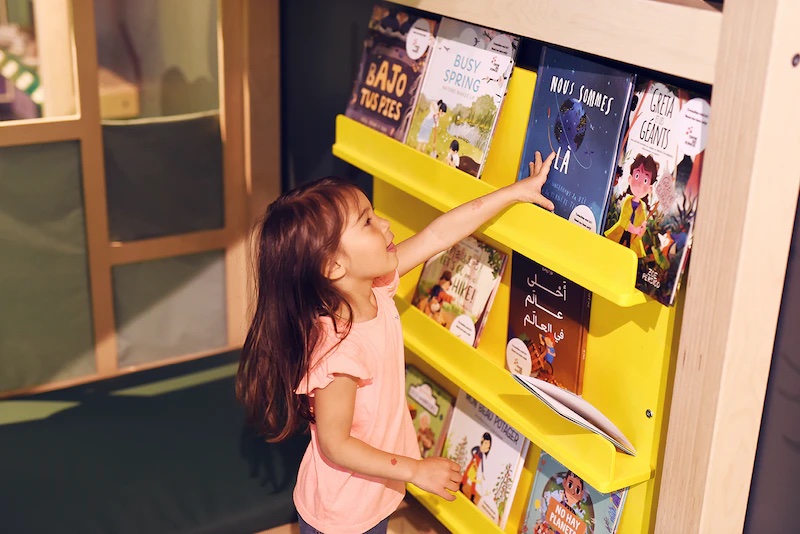 ABOUT THE MONTRÉAL SCIENCE CENTRE
The Montréal Science Centre, a division of Canada Lands Company, is a complex dedicated to science and technology, welcoming more than 700,000 visitors annually. It stands out for its accessible, interactive approach and for showcasing local innovation and know-how. Located in in the second-largest city in Canada, its audiences are primarily families from the Greater Montréal Area as well as families visiting Montréal seeking a fun and enriching museum experience.
More information can be found here.
Partners
The Montréal Science Centre thanks all its employees for their invaluable assistance.
PROJECT TEAM
Management Team: Philippe Clermont, Isabel Dansereau and Cybèle Robichaud
Project Leader: Maud-Fred Côté-Leblanc
Project Management: Élodie Robert
Production Assistants: Laurence Côté-Lavoie and Maïka Tardif
Research and Adaptation: Catalina Villegas Burgos
Sponsorships: Johanne Belley and Julie La Roche
Marketing and Public Relations: Marie-Josée Biron, Amélie Godbout and Jean-Philippe Rochette
Visitor Services: Anik Dionne, Marie-Pier Rouleau-Charbonneau and Catherine Sauvé
Technical Services Manager: André Régimbald
Museology Coordinator: Suzanne Couillard
Museology Technicians: Nancy Bourassa and Alain Néron
Multimedia Coordinator: Éric Donais
Multimedia Technicians: Ghislain Chartier and Marc Daneau
Maintenance and Construction: Maxime Kassis
CONSULTANTS AND SUPPLIERS
Scientific Committee:
Nathalie Bigras, Full Professor, Université du Québec à Montréal (UQAM), Early Childhood Pedagogy
Marc Boutet, Full Professor, Université de Sherbrooke, Preschool and Elementary Pedagogy with a focus on Environmental and Sustainable Development Education
Isabel Julian, Operations Manager, City of Montréal's Biosphere
Accessibility and Inclusion:
Humain Humain, GBA+ services for the inclusion of families with immigrant backgrounds
Kéroul, non-profit mobility consultancy organization promoting universal accessibility
Société Logique, non-profit architectural consultancy organization promoting universal accessibility
International Nutrition Consultant: Marianne Lefebvre, consultant with Nutrition d'ici et d'ailleurs
Proofreading: Louise Ferland
Translation:
Kalamuse (Victoria Barkoff) – English
Ubiqus Canada – Arabic, Spanish, Haitian Creole, and simplified Chinese
Artistic Direction, Design and Scenography:
La bande à Paul (Martin Imbeault, Vanessa Landry and Laurence Boutin Laperrière)
Graphic Design: La bande à Paul (David Martin)
Illustrations: Claudia Fortin
Fabrication :
Robocut Studio
Couper Croiser
raplapla
Surface Synx
Taktik Design
Printing: MP Repro
Thanks to:
Annie Charron, Full Professor, University du Québec à Montréal, Pedagogy Department
Pierre Lacoste, Geologist, Québec Ministry of Energy and Natural Resources
City of Montréal's Insectarium
STM, Montréal's public transit corporation
Centre de ressources et d'Action communautaire de la Petite-Patrie (community action organization)
Maison Internationale de la Rive-Sud (immigrant and refugee support community organization)
The families and school groups that took part in our testing sessions
Mini Mondo was made possible thanks to the generous support of the Montréal Science Centre Foundation with financial support from the Trottier Family Foundation.