Working in close collaboration with the Massachusetts Institute of Technology, our exhibit partners Studio Joseph, and branding agency Pentagram, Bluecadet produced over 20 interactives throughout 20,000 sq. ft. of exhibition space in the new MIT Museum, weaving them together into a seamless experience that conveys the diversity, identity, and ingenuity of the MIT Community.

The museum incorporates a wide range of interactive, playful, and informational engagements, inspiring curiosity and wonder. Below is an exploration of a selection of our most innovative interactives:
'Collaborative Poetry' is an application that teaches visitors about AI by inviting them to write poetry in collaboration with a GPT-3 neural network, trained specifically to compose poetry. Visitors can take turns writing lines of a poem with the interactive AI, who will suggest its own contributions based on the visitor's input. Once a visitor is happy with the poem, they can add it to the archive, sending it up into the river of poems visualized on the curving displays arcing above the interface.
'Black Box' is an interactive that invites visitors to draw a face on a touchscreen. The drawing is then transferred to the surface of a three-layer holographic projection that visualizes the processes a neural network uses to analyze the face and determine what emotion is being expressed. Bluecadet trained the AI for this experience, creating a custom on-line application that captures the thousands of drawings of facial expressions created by the MIT Museum community.
'Population Editing' is a simulation where up to four simultaneous users explore the long-term impact of gene editing on the entire population of a species. The choices each visitor makes inform real-time parameters that use existing scientific data to show the resulting consequences. Users learn the risks and rewards of gene editing and, at the end of the exercise, have the chance to vote on whether their chosen approaches deserve further research.
'Model Wall' is a display that showcases some of the most significant items in the museum's collection of 1.5 million scientific objects. Seamlessly integrated into the museum's wall, minimalist motion graphics animate the space between the vitrines and illustrate how the models would have moved or functioned. Visitors can choose to dive deeper by using one of the digital key stations to inquire further about the objects on display.
While the aforementioned interactives represent only a sampling of the experiences Bluecadet developed for this groundbreaking museum, each interactive individually and jointly culminates in a single goal, to embody MIT's motto: "Mens et Manus" meaning "Mind and Hand." This motto is a reminder that only through the combination of creative and practical action can we solve problems and build a better future. The MIT Museum is a way to share this motto—and this mission—with the entire world.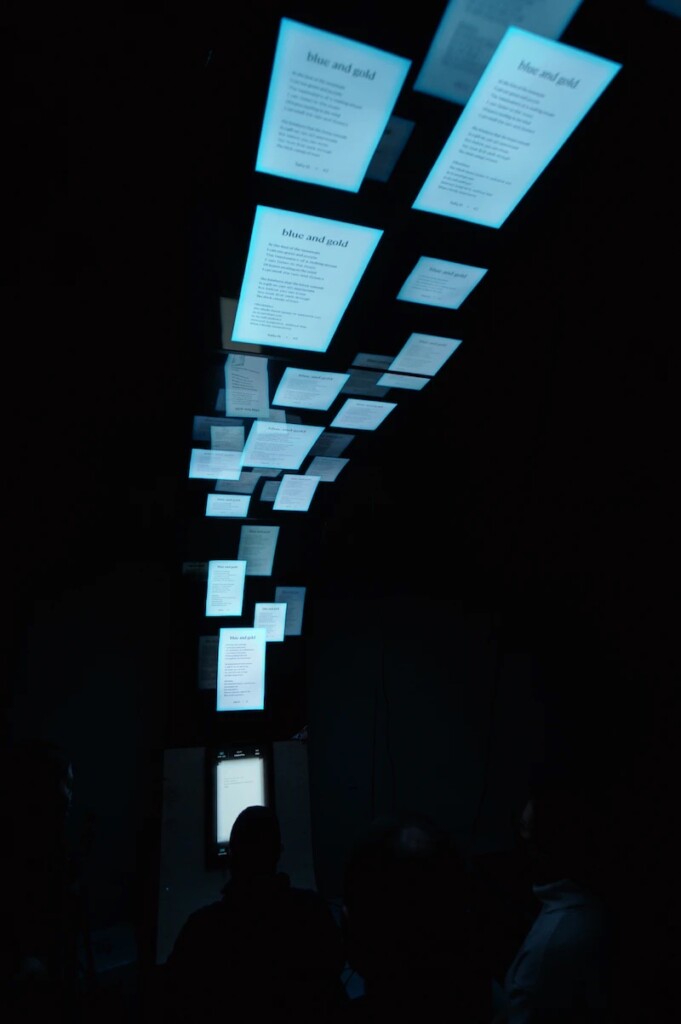 The exhibition was opened in October 2022.
Black Box works to demystify AI, demonstrating how machine learning and neural networks function by revealing the inner workings
Black Box displayed a sliced 3D neural structure, visualizing how neural networks work, look, and behave
Projected onto 3 layers of hologhauze, giving a sense of volume and depth
Prompts a deeper reflection on the relationship between human and technology, human and AI.
Position AI not as a machine that can learn from humans, but as a tool to unlock human creative expression
GPT-3 and OpenAI to create an organic, user-friendly experience.
Complex algorithms interpreted through approachable interfaces make science and technology within the grasp of many more.
Real-time user input from multiple users generates consequences that affect the evolution of virtual critters.
Integrating artifacts and motion graphics to create an immersively engaging dive into history of object and place.
This museum builds a comprehensible experience that visitors can explore open-endedly, pose their own questions and find their own answers.
More information can be found here.
Partners
Studio Joseph, Pentagram, Kubik Maltbie