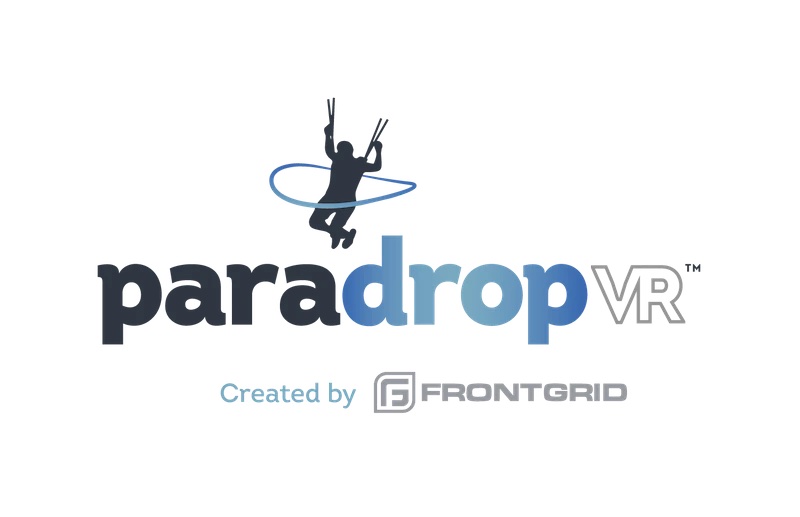 It combines motion-based engineering hardware and exciting VR environments to create the sensation that you are flying. ParadropVR frist launched in 2017 with its original hardware called Rize and it is now in 11 countries around the world and counting.
In 2022, Frontgrid, the creators of ParadropVR, launched a new model of the hardware called ParadropVR Pod.
ParadropVR Pod is a unique design, using futuristic technology ranging from motion engineering; digital and mobile interfaces; and VR environment, character and gamification development; all carefully attuned to work together to create experiences where people feel like they are flying. It is the future or competitive socialising.
More compact, operatorless and lower cost, ParadropVR Pod it is accessible to a wider range of venues.
Being multiplayer, Pod has a different emphasis to Rize, enabling participants to quite literally fly with their friends. Venues can either purchase a single unit, and participants can fly against a ghost rider, or up to 4 units can be connected together and 4 players can see each other progress through the game. Either way, it can be used as a competitive experience, as the flyers collect points along the way. These are shown on screen at the venue and housed on a global online league called the Parasphere, as part of www.paradropVR.com. This is of course accessible from home, from desktop and mobile optimised.
Participants are also invited to give their email address, in order to set up their own online profile, which acts as a flying log of the individual's flight history, scores and achievements. The profile also allows them to share their score on social media, creating further amplification for the venue, who can also use the email addresses to contact people with relevant offers and events – both valuable marketing tools. Most importantly, the system creates further reason for people to come back (therefore revenue), better their score and collect awards and achievements along the way.
The operator system which sits behind the ride, enables futuristic measurement of the installation, including stats ranging from ride data to providing maintenance notifications. It also allows tailorisation of the installation, for example adding in adverts on the display screens, or setting up and events which are recorded in the league – useful for venues to capitalise on the growing esports trend.
The user interface on Pod's touchscreen talks participants through the game selection, character selection, setting up a profile and how to get onto the ride as well as taking payment. Various sensors on the hardware provide safety stops enabling the ride to run without an operator present.
The Frontgrid team have pioneered techniques to build VR environments ranging from those inspired by the real world (eg our Fly Snowdon game series launched in 2022) to creating imaginary worlds (e.g. our Neon Nights game series launched 2022).
All in all, ParadropVR as an experience uses technology to push the boundaries of adventure and imagination.