The Giant's Head is connected to a volumetric scanning studio, controllers and computers which enable a diversity of content to be displayed on sculpture. Most notable of the remarkable imagery that is mapped onto the sculpture are dynamic scans of human subjects.

These video scans represent a complex technological innovation, namely the first time ever a video scan (25 fps) of a man, woman or child has been mapped onto a 3D anthropomorphic figure. The system has audio capabilities allowing the scanned subject to speak or sing resulting in a high-definition full video representation of the subject. The Giant Company and its partners created the bespoke software programmes that operate these creations.
Static Scans
Static scans can be displayed on the Giant's Head resulting in a lifelike 3D portrait of the subject.
Welcome to the Metaverse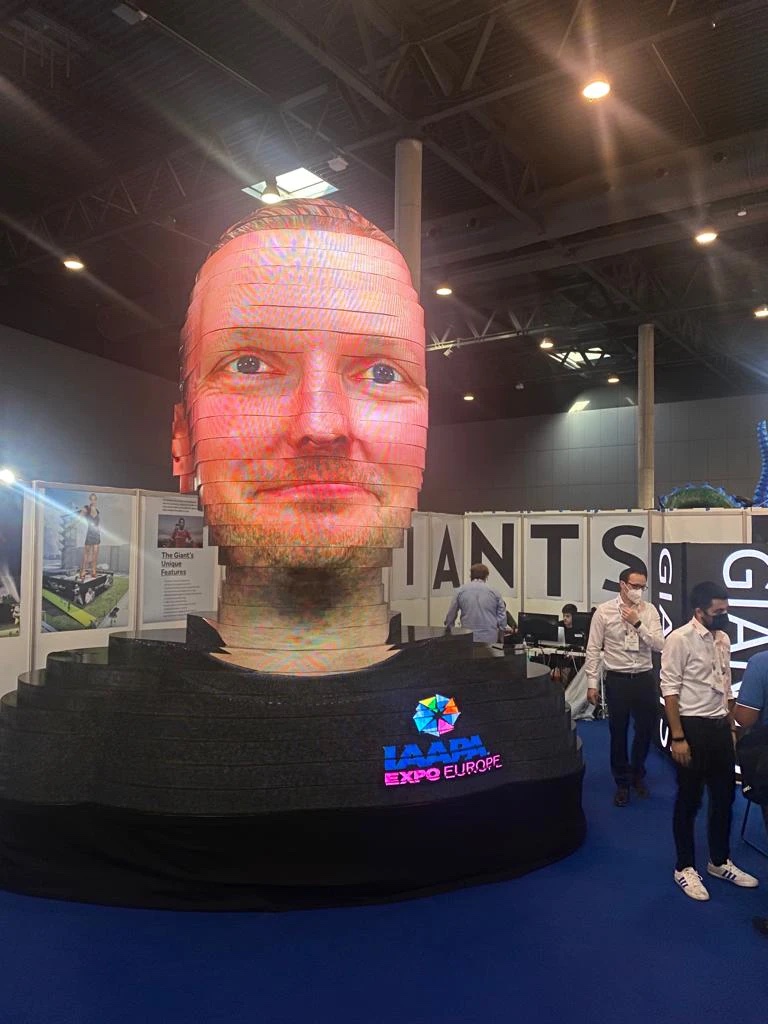 Once scanned, the volumetric studio generates a hologram/avatar of the subject. This avatar can be transported into a diversity of augmented and virtual reality environments which the scanned person can display and manipulate on mobile devices. With the AR component, the subject's avatar moves throughout the real world changing size (from a miniature person to a giant) wandering through and inhabiting surrounding environs and engaging with the real world as a person without physical limitations, a shapeshifter. In the VR component, designed environments are created and the subject's avatar enters constructed realms interacting with other scanned subjects. Such immersive productions include scanning a football team or celebrities with whom the subject's avatar interacts. To date we have demonstrated a 360-degree VR verisimilitude of London which the subject – as a giant – surveys and explores and an AR experience as described above.
Motion Graphics, Artworks, Brand Representation
The Giant Company has commissioned and displayed spectacular motion graphic artworks on The Giant's Head. These works alternate with scans of visitors and other content.
An array of artworks can be displayed on the Giant's Head including bespoke creations and historic and contemporary artworks adapted for presentation on the sculpture.
Advertisements and promotional materials – static and dynamic – have been displayed on the Giant's Head resulting in a compelling and unique 3D billboard.
The Giant's Head was displayed at Iaapa Expo Barcelona 2021 on our 4-meter-tall head (static scans, motion graphics, advertisements), ISE Barcelona on our 2-meter-tall head (static scans, motion graphics), Iaapa Expo London 2022 on our 2-meter-tall head (dynamic speaking scans, AR and VR avatars, motion graphics).
The Giant's Head was created as a prototype to explore and demonstrate the technical and aesthetic capabilities of The Giant. The Giant – currently under development – features a 10 to 20 story tall moving anthropomorphic statue situated on top of a bespoke building that houses: exhibits, immersive experiences, retail and f&b options. Twenty Giants are planned for cities around the world. Each Giant can share visual and audio content for presentation on other Giants.
An experimental technological and artistic project was undertaken to create dynamic video scans (with an audio component) that would accurately scan and map the head and face of men, women or children onto to a large sculpture of a human head covered in LED panels. While static scans (1 frame) of individuals have been mapped to a large head by The Giant Company, video scans (25 frames per second) have never before been mapped onto a sculpture. This process required two years of experimentation and numerous iterations using a diversity of approaches. Through extensive research and exploration, we decided that using a volumetric scanning system with bespoke software – which we developed – would result in a successful outcome. After months of testing we demonstrated the technology at Iaapa Expo in London in September 2022.
A volumetric scanning studio with 17 depth cameras and 32 RBG cameras was fabricated by the Israeli scanning company, Mantis Vision. A software programme that we wrote with our partners organizes these scans and creates a mesh (texture) which is then wrapped around the head and accurately positioned onto the sculpture. Aspects of this process are undertaken by an operator who positions the scans onto the sculpture. This process has now been automated and other features are being added in order to improve the appearance of subjects and other aspects of the scanning process. The volumetric scanning system also generates avatars of the scanned subject that are transported into a diversity of augmented and virtual reality environments. The Giant's Head and scanning system through it diverse iterations cost approximately six hundred and fifty thousand euro. The Giant's Head represents numerous innovations both technologically and creatively.