Architecture firm Gensler spearheaded the Globe project, which is the result of a collaboration between three distinctive fields namely architecture, interactive multimedia content design and immersive sound design.

The Globe is the result of a collaboration between three distinctive fields namely architecture (Gensler), interactive multimedia content design (Float4) and immersive sound design (Made Music Studio). Therefore this project is able to achieve innovation & creativity through the integration of compelling interactive motion-driven content and immersive sound within an installation with a unique architecture. Through multiple layers of interactivity and immersion, the Globe creates deeper connections between a visitor and the space, the AT&T brand, as well as other visitors. This inevitably results in an awe inspiring and memorable visitor experience.
Visitors may enter the structure composed of 15 interior ribs embedded with over 300 000 high-brightness colour LEDs and sound capabilities while a polished outer shell reflects the surrounding campus.
The immersive visuals and soundscape of the Globe use an array of sensors that allow the content to react in real time based on each guest's location within the unique structure inspired by the AT&T logo.
Sensors detect the number of visitors within the installation as well as their movements. Specific movements and specific numbers of visitors trigger different content modes. There are four principal states and varying energy levels; the longer visitors spend inside the Globe, the more animated the content becomes!
The content modes also feature Easter Eggs. Visitors activate Easter Egg states when performing specific actions or positioning themselves in specific locations within the structure. These features surprise and delight as strangers realize they can unlock even greater interactive features by working together. Teamwork makes the dream work!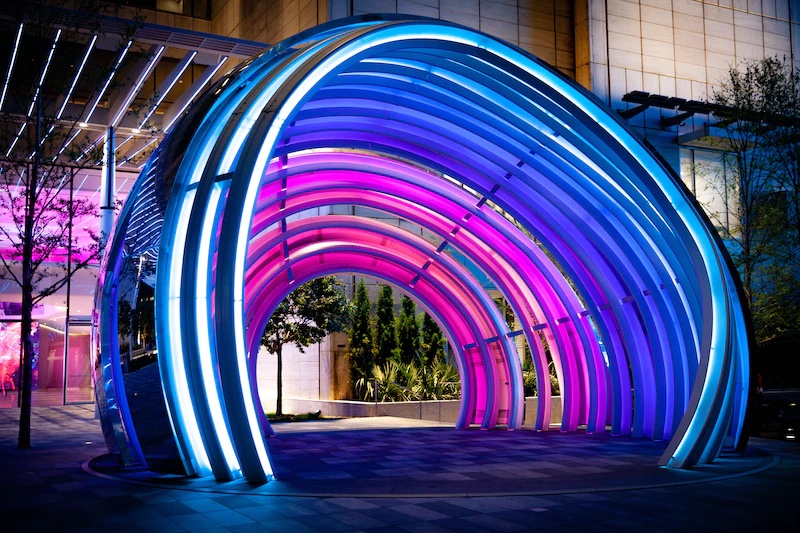 Finally, the 20 speakers and 6 subwoofers placed strategically inside the Globe's structure allow visitors to experience the beautiful and truly immersive sound developed in collaboration with sonic branding and design company Made Music Studio.
Partners
Gensler, Float4, Made Music Studio