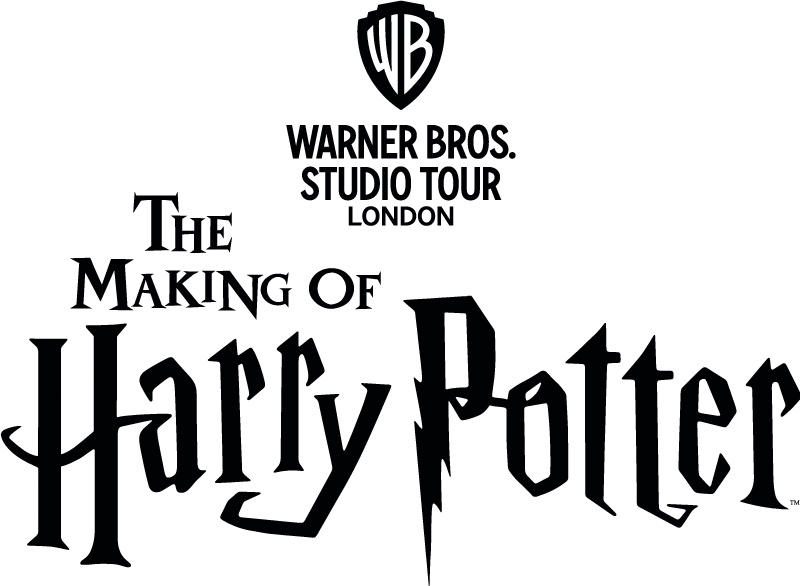 Since 2012, we have welcomed over 16 million of visitors on an eye-opening journey through film production, which documents over 10 years of behind-the-scenes filmmaking secrets, iconic sets, authentic props and original costumes from the Harry Potter film series. The Studio Tour is always looking for new ways to engage fans and share the knowledge of filmmaking through special features, taking visitors through a storytelling journey focused on different themes to inspire return visits and exceed visitor expectations. For the summer of 2022, we introduced a brand-new feature called Mandrakes and Magical Creatures.
Running for a total of 13 weeks, the Mandrakes and Magical Creatures feature was created to shine a spotlight on how fan-favourite creatures from the Harry Potter film series were designed and created both digitally and physically for their eventual representation on-screen. This feature included the addition of 14 new creatures, over 80 mandrakes and 15 new costumes, never-before-seen at the Studio Tour, including the original Frog Choir set-up in the Great Hall from Harry Potter and the Chamber of Secrets, Troll's Feet rig from Harry Potter and the Philosopher's Stone and the addition of a new, permanent set – Professor Sprout's greenhouse.
In a unique immersive experience, inspired by Professor Sprout's Herbology lesson scene, visitors could now step into the greenhouse set and pull up potted Mandrakes which triggers screaming sound effects when raised. Our commitment to retelling the production story is reflected in every element of this experience, staged inside the perfectly replicated greenhouse set which took over six months to build by the original crew from the Harry Potter film series. Each intricate design element allows visitors to experience the Wizarding World through the eyes of the filmmakers, by demonstrating the vision and narrative purpose behind their artistic decisions.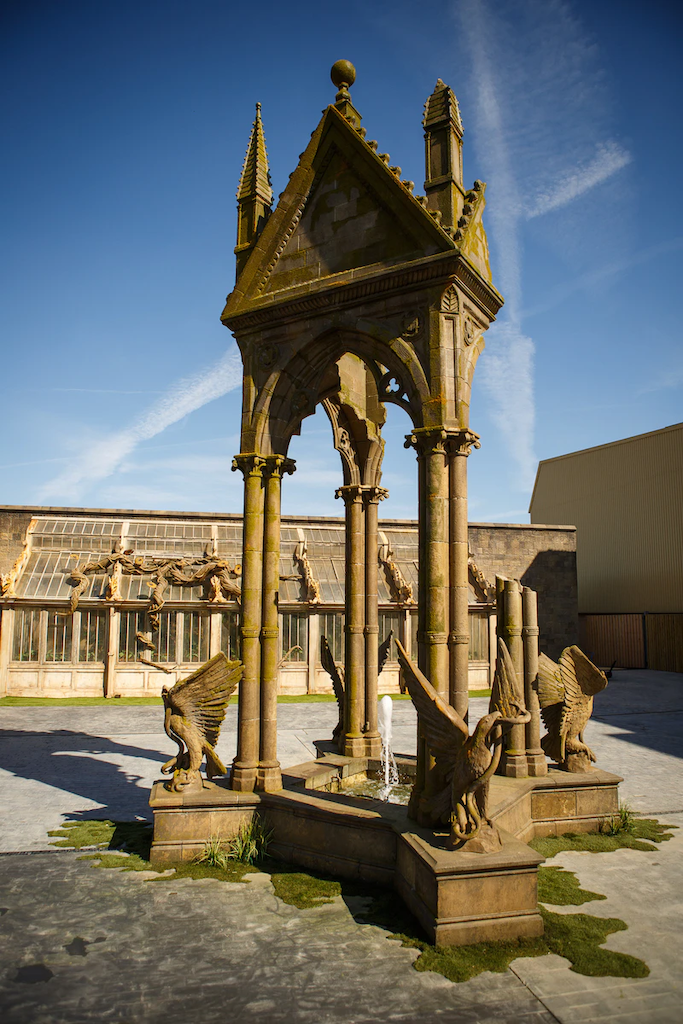 Outside of the central tour experience, the feature content provided an opportunity for our visitors to be fully immersed in the theme from creature-inspired food in our Food Hall to a creatures trail throughout the Tour for younger visitors to engage.
At the heart of the Studio Tour is a desire to celebrate the real-life magic of film-production: from the technical to creative, we hope that these stories of hard work, dedication, and ingenuity can inspire our visitors to engage with the filmmaking story behind the Harry Potter film series. This is the reason why we took a diverse approach to designing our Mandrakes and Magical Creatures feature, combining the fascinating production history of Harry Potter with a myriad of immersive learning, so that audiences of all ages could engage with the material and leave the Studio Tour with a feeling of enjoyment and education.
In May 2022, we prepared for the launch of Mandrakes and Magical Creatures with a multi-million-pound investment to expand our Backlot area resulting in a 50% increase in exhibition space. New developments included living room and conservatory expansions in our Privet Drive set, the Hogwarts Castle Fountain prop, and a 1:3 scale-version of the Weasleys' Burrow prop, which provides insight into the camera trickery behind external scenes of the Weasley family home. However, the most extensive development was our brand-new greenhouse set expansion, which took over six months to build.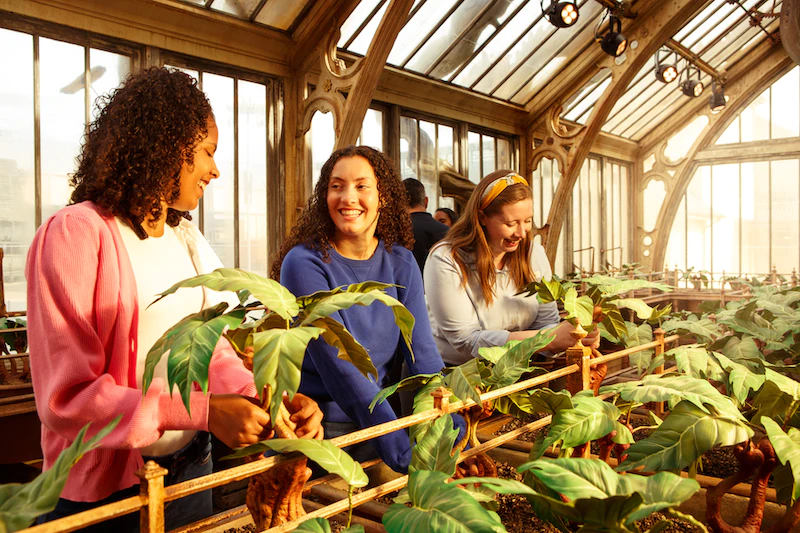 Mandrakes and Magical Creatures brought visitors closer than ever to the story behind spell-binding set design and character creation, by placing a spotlight on the immense talent of various creative departments involved in the greenhouse's construction – from the original Harry Potter crew who re-created the set according to Stuart Craig's original vision, as well as using some authentic pieces from the original set, to the propmakers and Creature FX artists who decorated its interior with 98 Mandrake models, made using the same moulds as used for the film. From its fibreglass fixtures that mimic the effects of rust, moss, and verdigris, to the menacing vines of the Venomous Tentacular plant model snaking through the hand-painted smashed windows, each carefully designed element of the greenhouse immerses our visitors within the cinematic world of Harry Potter, showcasing the powerful storytelling capabilities of set, costume, and creature design.
Our staff are always on-hand to explain the narrative intention behind every observable detail in this permanent set, such as the subtle cobweb embroidery on Professor Sprout's collar, which characterises her as part of the wild Victorian greenhouse itself. During Mandrakes & Magical Creatures, visitors were also able to see a small-scale white-card model of the greenhouse at the end of their tour, which had been strategically placed to inspire appreciation for the initial concept's development into an all-encompassing final form.
The attention-to-detail of the Creatures Department was another focal point of the Mandrakes and Magical Creatures feature, which included a demonstration of four different kinds of Mandrake props created for the film: static models used in background shots, radio-controlled animatronics for wide shots, 'stunt' models that were handled by cast members, and wireless animatronic 'hero' props for close-ups.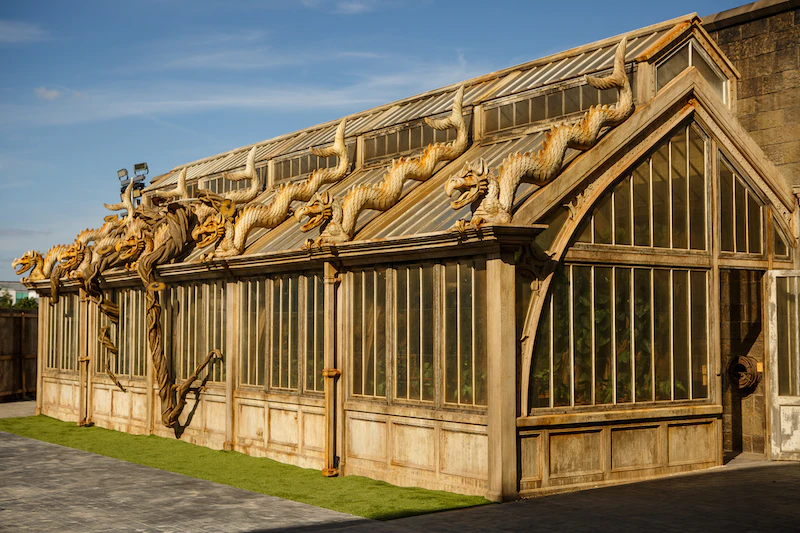 Our staff would explain the cinematic purpose of each model, allowing visitors to see the innovation, teamwork, and diversity of skill that went into creating a scene which is only one short scene in the film. This, combined with our Art Department demonstration on CGI character design, additionally told the story of cinematic creature creation throughout the 2000s – how practical effects were combined with technological advancements in visual effects, resulting in a 50/50 split between physical models and computer-generated ones. Throughout Mandrakes & Magical Creatures, visitors were invited to engage with the practical and digital aspects of 21st century film production, as they witnessed the working tear-ducts of Fawkes the animatronic Phoenix and massive troll-leg rig, before seeing how the Art Department turned 2D concept artwork of Thestrals into 3D models that could be digitally manipulated to move like real animals.
During our Mandrakes & Magical Creatures feature, we devised several innovative and immersive activities designed to grasp the attention of our younger guests. This included a guessing-game trail of fan-favourite magical creatures spread throughout the Tour. Cornish Pixies, a Thestral, Fawkes the Phoenix, the animatronic Monster Book of Monsters and more could be 'hunted down' in various locations, and an additional station was set up where guests could create their own origami Monster Book of Monsters to take home, helping them to engage with the props on display. To further inspire the storyteller within each of our younger guests, the education department launched a free competition in celebration of Mandrakes and Magical Creatures, which was judged by Harry Potter Art Director, Gary Tomkins.
School children from around the UK were tasked to design a completely original magical plant, by taking inspiration from those found in Professor Sprout's greenhouse. This creative challenge asked students to think about what their magical plant would look like, what properties it would have, and how it might be useful for wizards and witches, combining imaginative design with critical thinking. The winner of this competition received Studio Tour tickets for a group of up to 40 students and 8 adults, an exclusive lesson inside the greenhouse set, a free copy of Harry Potter and the Chamber of Secrets provided by Bloomsbury, and the winning artwork was recreated by Harry Potter storyboard artist Nick Pelham. This collaborative project is a testament to the ethos of our Mandrakes and Magical Creatures feature: by showcasing the magic of storytelling through creature creation, we were able to inspire the ingenuity of over 18,000 children, through 599 unique school entries.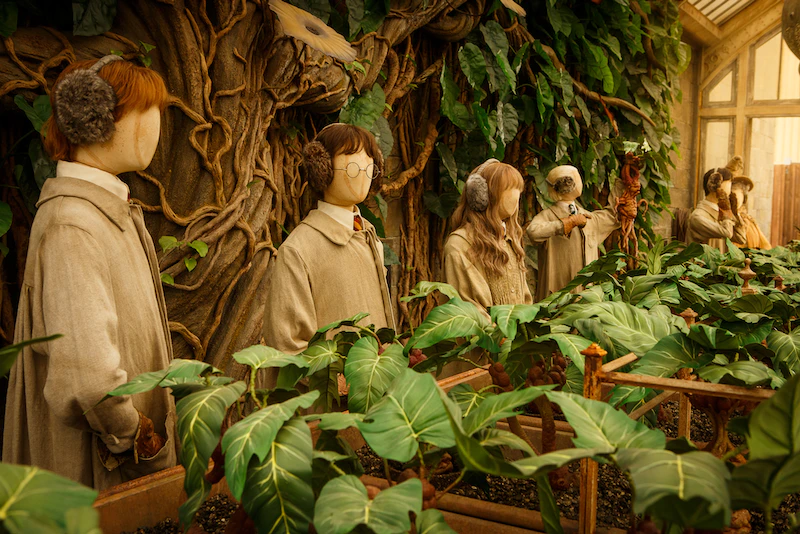 The launch of the Mandrakes and Magical Creatures feature, including a spotlight on the new Greenhouse set, was carried out with an integrated marketing campaign across press, social, TV, VOD, OOH, and digital display, contributing to an increase in website visits and conversions resulting in a sold-out Summer, with brand awareness achieved through reach. This also included two launch events which saw original cast from the Harry Potter films attend as well as a number of social media influencers, press and celebrities. The announcement activity alone on 20th April reached over 1million people via press channels and saw a 266% increase in average social engagements and 166% increase in impressions.
Overall, the feature and new set addition were a success, with the Studio Tour achieving an average score of 99% in Visitor Enjoyment during the features run, with four out of five visitors stating that the feature added to their enjoyment of the Studio Tour (source: post-visit survey). We additionally achieved an overall score of 96% on Google Review, and 94% on Trip Advisor during the same timeframe, which is a testament to the overall visitor satisfaction during Mandrakes and Magical Creatures.