The new Journey to the West theme park is based on the classic 16th century title of the same name, and details the legendary pilgrimage of Buddhist monk Tang Sanzang and his three disciples – Sun Wukong, Zhu Bajie and Sha Wujing – who travelled to the "Western Regions" in search of sacred texts. Among them is "Battle with the White Bone Spirit", where a shapeshifting demoness called the White Bone Spirit made three attempts to deter the quartet from their mission, only to be subdued by Sun, a legendary mythical warrior best known as the Monkey King.
Other attractions such as "The Cave of Silken Web" and "Borrowing the Plantain Fan" are also based on well-known episodes in Journey to the West. The former pits a helpless Tang Sanzang against a bevy of spider demons disguised as beautiful maidens, who entrap the pious monk in their silken lair. "Borrowing the Plantain Fan" is based on Sun's three encounters with Raksasi and her husband, the Bull Demon King, in trying to borrow the magic plantain fan to subdue the flames of the Fiery Mountains. With the help of a host of spirits, Sun overcomes them and leads his master and fellow disciples over the Fiery Mountains.
Journey to the West, the new theme park in Huai'an city, takes guests through episodes based on one of the Four Great Classical Novels in China which was written in the 16th century. In "Battle with the White Bone Spirit", guests seated in uniquely suspended dynamic seats become part of this epic battle of wits and magic as the Monkey King thwarts attacks and evil spells conjured by the White Bone Spirit. The exhilarating action takes place on numerous gigantic screens illuminated by nine Christie D4K40-RGB pure laser projectors, three Christie D20WU-HS 1DLP® laser projectors and 18 Christie DWU850-GS 1DLP® laser projectors, while AV distribution and processing is accomplished by nine sets of Christie Terra transmitters and receivers. They were installed and commissioned by Christie's longstanding partner Wincomn Technology.
All 30 projectors are strategically fitted across the 11,000 square meter (118,403 square feet) attraction to light up an array of large surfaces that include dome-shaped screens, holographic displays and curved screens. Visual contents are seamlessly transmitted by Christie Terra – a flexible SDVoE (Software Defined Video over Ethernet) based solution – to any of the projectors on-site via 10G Ethernet. By leveraging on standard Ethernet technology, SDVoE systems such as Christie Terra can scale-up in size very efficiently as needs evolve. This provides the attraction with flexibility to expand or upgrade its AV systems in the future.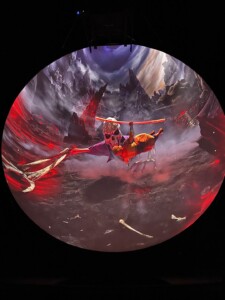 The visuals of "Battle with the White Bone Spirit" are among the main highlights of this theme park since its opening in July 2021. In particular, the massive dome-shaped screens illuminated by Christie D4K40-RGB projectors blew audiences away with spectacular images in 4K UHD resolution that enabled them to experience every minute detail of the legendary battle. Thus, it is no surprise that this six-minute dark ride is one of the most popular attractions in the sprawling theme park.
Christie's leading edge laser projection and content management solutions are also deployed in two other attractions, namely "The Cave of Silken Web" and "Borrowing the Plantain Fan". The former is a dark ride powered by 39 DWU850-GS and four DWU630-GS laser projectors installed by Wincomn Technology to light up five large curved screens, while amazing visuals in "Borrowing the Plantain Fan" are achieved using 11 HS and GS Series laser projectors, along with Christie Pandoras Box Players and Pandoras Box Manager installed by Shanghai Hehao Technology Co. Ltd.
Partners
Wincomn Technology
Shanghai Hehao Technology