Rulantica's outdoor RideHOUSE® is customized with gargantuan sea creatures that seamlessly integrate into the park's mythological Scandinavian story. The structure is a spectacular accomplishment of design, engineering and storytelling that sets a new standard in aquatic play. The addition has elevated the guest experience at the world-leading water world to new heights of entertainment.
Svalgurok depicts a spectacular aquatic battle that stimulates every guest's child-like imagination. The awe-inspiring sight shows the giant sea serpent Svalgur and a giant octopus – a ProSlide Continuous BodyBOWL in disguise – locked in battle, with tentacles encircling the RideHOUSE®. And for the first time on an aquatic play structure, Svalgurok features a massive, interactive robotic element.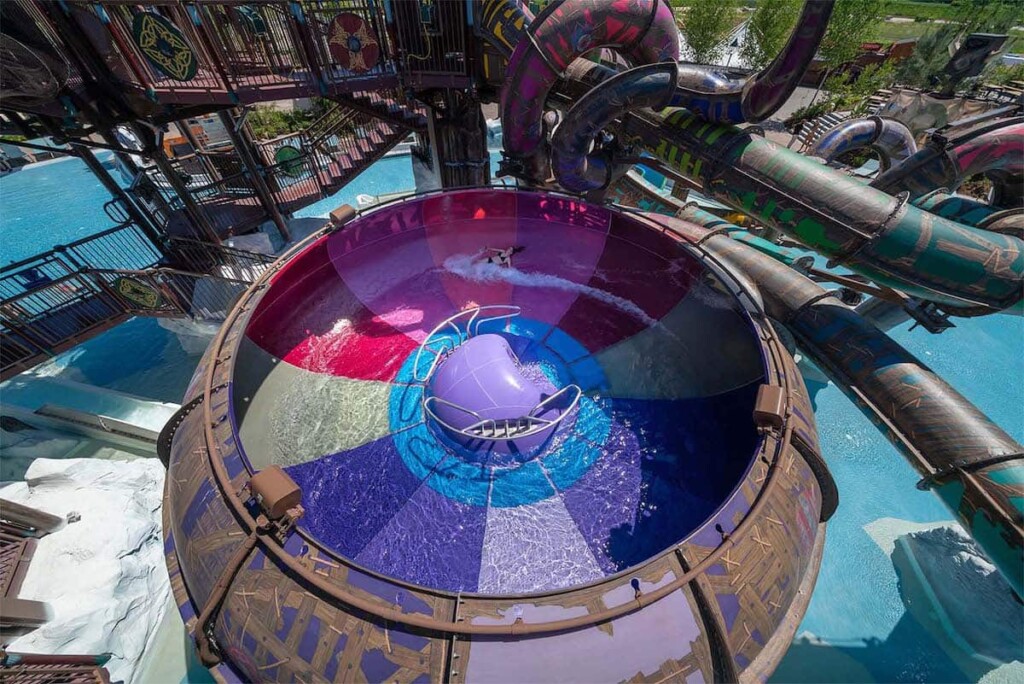 Advanced technology enables Svalgur's head to move and spray up to 200 gal/minute of water from four nozzles inside its mouth. The theming is elevated by intricate details integrated into every element. Hand-painted theming on the slides ensures they blend into the structure, while the tipping bucket holds the appearance of being constructed from ship planks. A tunnel of whale bones serves as a bridge between sections while subtle aspects like guardrails include hand-carved Viking shields and wood planks, cementing the fantasy.
Svalgurok's industry-leading theming is matched by the complement of cutting-edge ProSlide water rides that fulfill the thrills. A mix of 10 tracks of high-performance ProSlide water rides anchor the RideHOUSE®, providing a dizzying diversity of experiences in one location. Complete with a competitive two-lane ProRACER®, three TWISTERS and four KIDZ TWISTERS, guests marvel at the exciting options available.
ProSlide's RideHOUSE® Redefines Aquatic Play
ProSlide's RideHOUSE® is a complete, all-in-one water play entertainment center and part of the company's WaterKINGDOM suite of family rides and attractions. RideHOUSE has been purposefully crafted to be an open, easy-to-supervise structure. Filled with an exciting mix of dynamic features, slides, and interactive areas to explore—a custom RideHOUSE delivers quality, durability, value, and flexibility in a creative, innovative design.
Every aspect is designed by our in-house team of custom ride designers and the best theming experts in the industry. With every platform, toy, and tower, there's always something for guests to discover about RideHOUSE.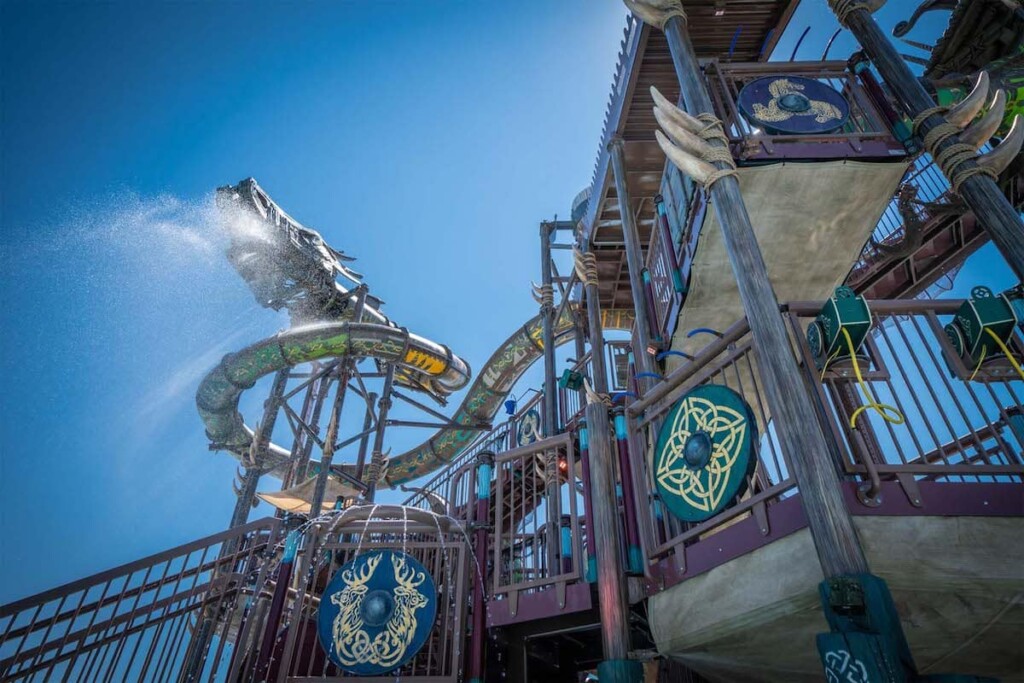 Safety from Concept to Execution
The design of ProSlide's RideHOUSE® is strategic from the outset.
Numerous safety and accessibility considerations are woven into the design of every RideHOUSE® structure. ProSlide has incorporated standards from the American Disability Act, American Society for Testing Materials, and International Building Code to ensure that their attractions exceed international safety standards. Design choices like continuous handrails, the industry's largest decks, and non-slip surfaces are paramount with every RideHOUSE® to create a safe, worry-free attraction for kids and parents.
Innovative User Control Technology That Elevates and Deepens the Experience
Seeing an opportunity to build on the success of Rulantica's indoor water park attractions and offer even more water-based entertainment to their guests, Europa-Park extended the experience outdoors and opened an instantly iconic, custom ProSlide RideHOUSE®. Named 'Svalgurok', after Rulantica's famous Svalgur, this RideHOUSE® features a breathtaking replica of titular sea serpent that towers over the entire structure. With an incredibly advanced, user-controlled serpent head perched 15 meters above the ground, this monumental leap forward in theming incorporates spectacular feats of design, engineering, and robotics to set a completely new standard in aquatic play.
Europa-Park set out to create a new level of immersive theming with Svalgurok's user-interaction component. The head on Svalgur contains an intricate robotic system that allows guests to interact directly with the serpent via a ship's wheel and a lever connected to inclinometers located on the deck directly below the serpent's head. By manipulating them, guests can move its head up, down, and side to side, taking charge of the beast and elevating their immersive experience even further by giving them the power to direct Svalgur's spray at their friends below.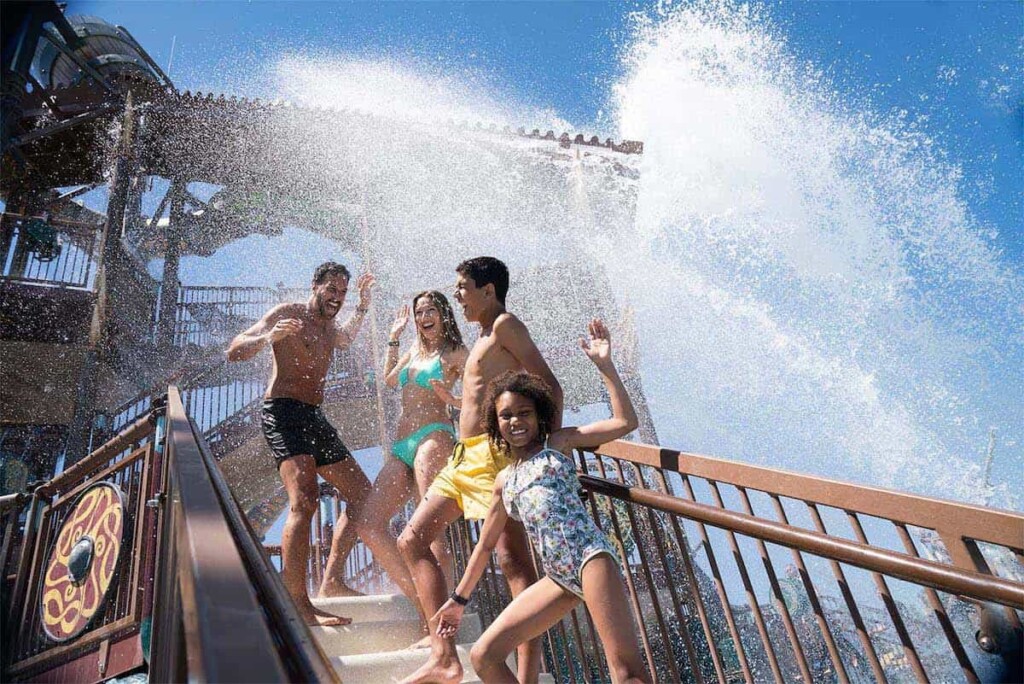 When not being controlled by guests, Svalgur utilizes advanced automation functions that deepen the experience and atmosphere at Svalgurok. At times the serpent appears to be sleeping, but when it wakes its eyes light up white, letting out a groan and shooting mist out of its nostrils. Svalgur's head begins to move side to side, as if scanning the guests below for targets. The longer Svalgur is awake, the more animated his movements become with eyes and nostrils lights turning red. Svalgur finally lifts his head high, opens his mouth, lets out a huge roar and blasts water out of his mouth as it glows fire red. The crowd below is sprayed with water bursting out of Svalgur's mouth at up to 200 gallons per minute. Svalgur then goes to sleep for five minutes and repeats the cycle, intermittently waking from his sleep to spray again.
The movement and automation of Svalgur's head relies on cutting-edge technology to operate seamlessly and continuously. The manual component that allows guests to control Svalgur's head leverages three axes of motion with pneumatic actuators to ensure the serpent's head moves in conjunction with the guest's actions. That and the automatic functions are determined by complex water control, lighting, timing, safety and audio systems are operated via Europa-Park's main control room.
More information can be found here.
Partners
Mack Solutions Construction
archis Architekten + Ingenieure GmbH
aquila wasseraufbereitungstechnik GmbH
MackNext