Chosen by UK Research & Innovation (UKRI) as part of its Audience of the Future program, new immersive storytelling venture Fictioneers – a consortium made up of three independent commercial partners: digital product development studio Potato, creative agency Sugar Creative and games developer Tiny Rebel Games – was awarded a multimillion-pound R&D grant in April 2019 to explore and pioneer cutting-edge immersive experiences.
The app, which launched in January, follows the characters' first new adventure in a decade, as their latest business venture – Spick & Spanners – takes on the challenge of fixing up Bristol. Using the latest technology, fans are able to get closer than ever to Wallace & Gromit. The experience is rich and multi-layered, realised through innovation and technology.As part of their brief to reimagine how stories are told to large audiences using today's technology, Fictioneers identified a key gap: there were no tools on the market to help design a 'real-time' experience. So they built their own.
Fictioneers architected an innovative Multi-User Story Telling (MUST) platform that enables creative teams to author complex interactive narrative. In simpler speak, Fictioneers wanted to create a unique tool for transmedia storytelling, which will allow brands to build interactive mixed reality, narrative-driven experiences.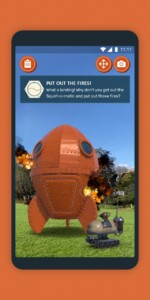 Additionally, they wanted to put mobile at the heart of the experience, giving anybody with a smartphone access to the experience without the need for expensive tech.
Available on iOS and Android worldwide*, the free app creates an all-new real-time narrative-driven experience, taking users through AR gameplay, CG animations, in-character phone calls and more. It also features a stellar A-list voice cast, including Miriam Margolyes OBE and Jim Carter OBE.
What Fictioneers and Aardman have created is breaking down key boundaries in the world of immersive entertainment. The world of immersive technology has been one of prototypes and demos; audiences are tired of the hype and want substance.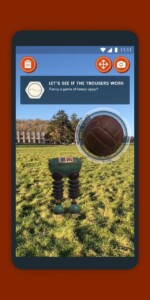 Despite previous advances allowing this technology to be part of our everyday life, the use of it so far as a way to tell wonderful stories has been missing.
Mobile is at the heart of this experience, which allows the team to give anybody with a smartphone access to the experience without the need for expensive tech and also allows us to deliver an incredible immersive experience at scale.
During a year which has seen many of us stuck at home, the beauty of The Big Fix Up is that users can take part fully from the comfort of their own homes, occupying all ages alike, and could be considered the future of remote entertainment.
Fictioneers is a unique, first-of-its-kind creative technology venture, conceived with the aim of pushing the boundaries for cutting-edge mixed reality and immersive storytelling projects. Over the past two years we've had to learn how to combine our creative and technical strengths, work as a team and function as a new company on this incredible journey.
"Wallace & Gromit have innovation, gadgets, and technology at the comedic heart of their world. Working with Fictioneers to create The Big Fix Up has been a perfect fit, allowing us to bring the duo's fantastic fictional contraptions right into our audiences homes using the latest real technology." – Merlin Crossingham, Creative Director of Wallace & Gromit at Aardman.
Since launch, The Big Fix Up has received more than 200 pieces of press coverage, with an estimated media reach of 325M as well as regular features on the App store and Google Play. We have also learned valuable lessons around the use of mixed media and AR through the tests we have conducted.
Following its successful launch, Fictioneers and Aardman have recently delivered three city-scale AR experiences in Bristol, Cardiff and San Francisco, titled 'Wallace & Gromit: Fix Up The City'.
*with exception of China and Singapore
More information can be found here.
Partners
Aardman
Fictioneers (Potato, Sugar Creative, Tiny Rebel Games)