Summit One Vanderbilt is New York's newest and most exciting attraction – an immersive, multi-sensory 65,000 square-foot observation deck experience, where themed entertainment and experiential technology add a new dimension to New York's stunning cityscapes. The observation deck sits 91 stories above Madison Avenue in one of New York's most impressive 'supertall' skyscrapers.

The observation deck represents an outstanding attraction in its own right with spectacular views over Grand Central Station and the stunning New York skyline. However, the owners SL Green had an even more ambitious goal – to turn it into one of the city's premier destinations for residents and visitors by creating ways of seeing the city never experienced before.
Their vision was to bring themed entertainment and experiential technology to the observation deck and create memorable experiences that would engage visitors — and keep them coming back.
Kenzo Digital, one of the world's leading experiential designers, created the concept designs for a highly personalized, interactive, immersive experience that would cover 26 unique spaces spanning four levels.
However, translating the conceptual designs into a technology solution required many specialist skill sets and deep experience of designing and integrating technology for large-scale themed entertainment projects.
To meet that challenge, Electrosonic was selected as the audiovisual partner and integrator because we are recognized as the definitive audiovisual and technology partner for this type of large, complex themed entertainment project. In addition to award-winning global installations in theme parks, museums and visitor centers, Electrosonic has almost 60 years' relevant experience in delivering immersive solutions for premier observation deck experiences, including Skydeck Chicago at Willis Tower, One World Observatory in New York, Vue Orleans and more.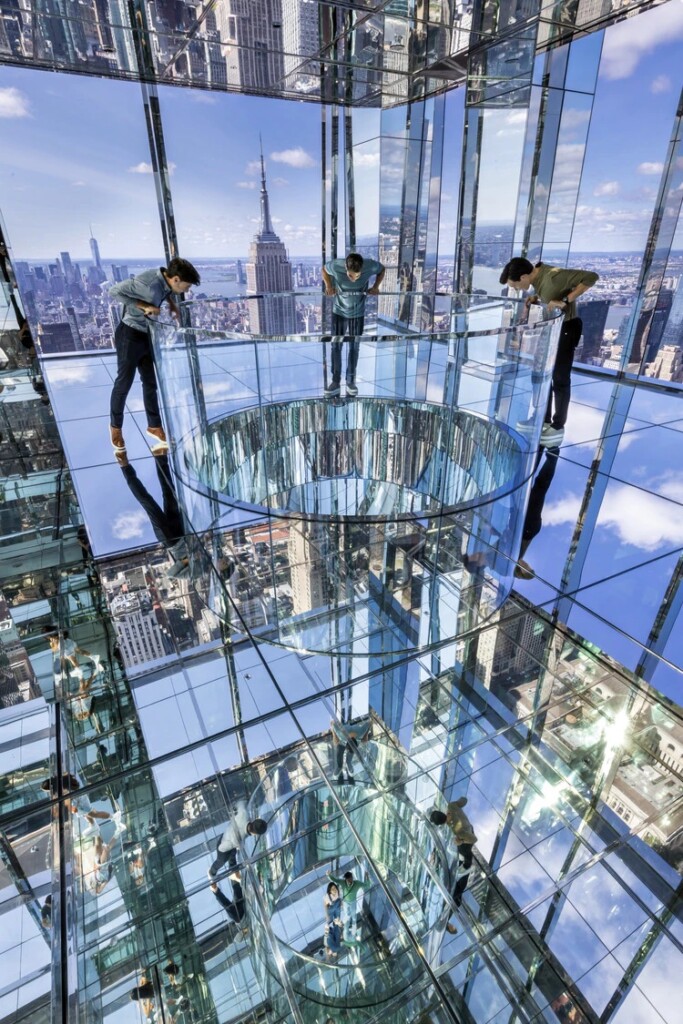 To deliver this world-class experience, Electrosonic worked in partnership with the owners SL Green, Kenzo Digital, audiovisual designers JB&B and technology advisors Tad. In the initial development stages, Electrosonic was able to influence the design by providing audiovisual advice and expertise to help the creative team achieve the desired final result.
Electrosonic was then responsible for engineering, procuring, installing, commissioning, programming and testing hundreds of audiovisual components that make up the technology systems at Summit One Vanderbilt, including the audio system, LED displays, audiovisual and lighting control systems and experiential technologies that run the show. The audiovisual estate includes 16 LED displays, 3 video walls, 247 speakers and subwoofers, 4 audio controllers, 14 video controllers and 11 racks worth of equipment.
Among the many highlights of Summit One Vanderbilt, which are described in the next section, are the Hall of Light, a choreographed audio and light installation, one of the world's largest infinity rooms where a 3D soundscape creates a different experience in every part of the space, an amazing light show built into architectural columns that complements the night-time cityscape and a massive 50-foot interactive video wall where visitors can view their own 3D image in a bank of clouds.
Putting a massive themed entertainment project like Summit One Vanderbilt together and delivering it on time required detailed planning and coordination. The project had to be completed within a small window leading up to opening day on October 21st, 2021. For Electrosonic's scope, that meant one year. We had to collaborate with more than 30 trades, manage an often-changing schedule and continue to support the on-the-fly-designing that was happening, together with the scheduling challenges impacted by Covid-19.
Logistics were also a major challenge. Observation decks like Summit One Vanderbilt sit more than 90 floors up on top of skyscrapers and involve unique spaces like elevators which are extremely difficult spaces to add themed entertainment technologies, even for the most experienced integrators. It's not as simple as installing interactive screens and other audiovisual equipment. It took in-depth planning and maneuvering just to get the logistics right, together with Electrosonic's experience of working in the busy center of New York.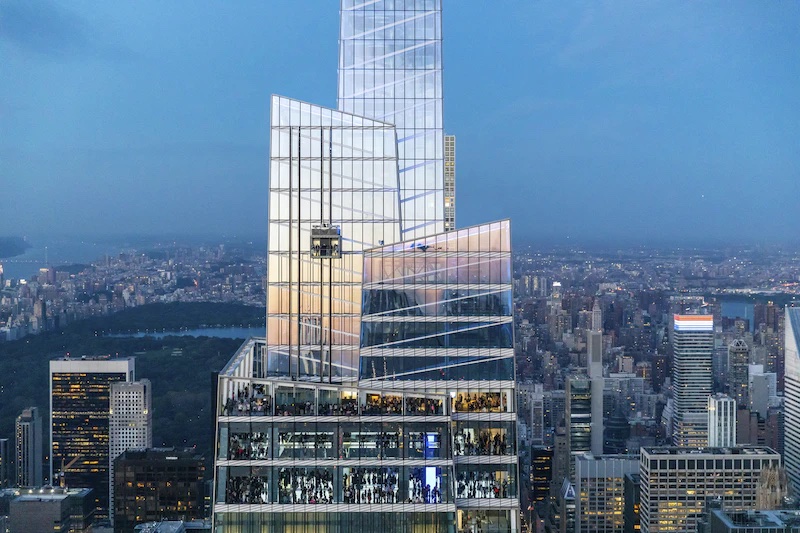 This project also required high levels of collaboration with owners, designers, technology partners and specialist trades. Although everyone is working towards a single vision, delivering the final result means continual coordination among trades and dealing with the interdependencies of hundreds of components. Electrosonic's ability to lead with Technology Master Planning™ supported the audio, visual and control systems that created a truly immersive experience.
When the system integration phase was complete, Electrosonic handed over the site to our on-site support team. The team use Electrosonic's Affinity managed on-site support package to maintain all audiovisual systems and ensure the experience continues to run smoothly well into the future.
Summit One Vanderbilt is an immersive experience on a massive scale. The project demonstrates Electrosonic's ability to deliver seamless technology design, integration and support solutions for highly creative large-scale themed entertainment projects that transform the visitor experience in large venues.
Evidence of innovation
Summit One Vanderbilt features innovative technology throughout the 65,000 square foot space, engaging visitors as soon as they enter the building. In some of the spaces, such as 'Transcendence', technology enhances the view of the city. In others, personalization and interactive technologies work together to create unique experiences that keep visitors fully engaged.
Visitors initially enter through a basement corridor that links Grand Central Station with One Vanderbilt. They then reach a 180⁰ interactive theater that sets the tone for the observation deck experience. In the queuing area digital signage entertains and informs visitors while they wait. Custom 3D facial scanners capture images of visitors, which are an integral element of a personalization program that will enable visitors to take part in a unique interactive experience later.
Although the main attraction is more than 90 floors up, experiential technology creates a sense of expectation before visitors make their way to the observation desk. Visitors next enter the 'Hall of Light', a dramatic choreographed, synchronized audio and light installation in a tunnel that leads to the elevators.
Inside the elevator, immersion continues as special lighting effects and mirrors energize visitors as they climb to the top. A custom ride player triggers and synchronizes different sound and lighting effects for each scene in the elevator sequences.
After exiting the elevators on the 91st floor, visitors reach the Transcendence space – an epic story-driven, multi-sensory immersive experience designed by Kenzo Digital and filled with infinity mirrors from floor to ceiling. Carefully placed directional audio sets the tone for what visitors are about to experience. At night, architectural columns come to life with an amazing light show that is achieved through the use of integrated lighting and two-way mirrors.
Transcendence is one of the biggest infinity rooms in the world — it's an overwhelming experience, especially when visitors can pair the views with the sound and the lights at night. The innovative sound design contributes to the immersive experience of the space. It's a 3D soundscape and, because of that, every part of the room is a different experience. From there, visitors move to a fun interactive space where they can connect to hundreds of reflective orbs hovering around them.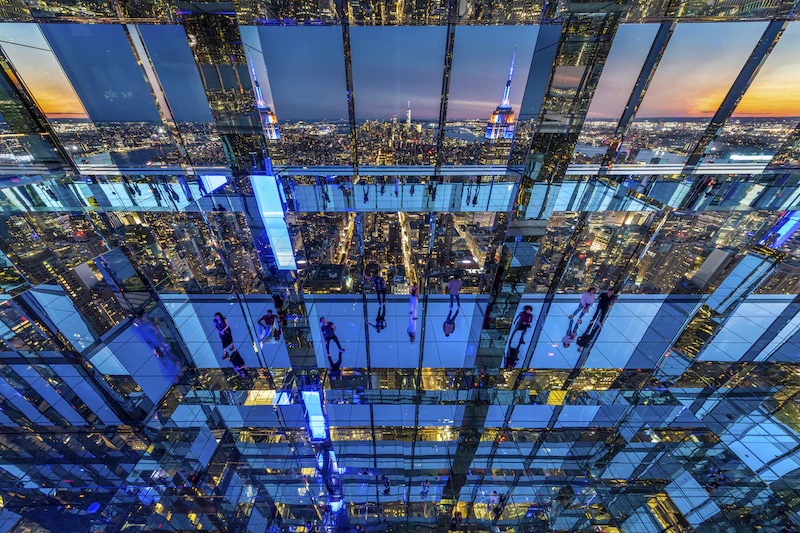 On the 92nd floor, visitors make their way to Unity, where they can scan their wrist bands and see a 3-dimensional image of their face that they scanned earlier visualized in the clouds on a 50-foot-long floor-to-ceiling video wall that creates a one-of-a-kind personalized experience where visitors feel they are one with the clouds.
To manage this large-scale installation, Electrosonic developed a sophisticated control system based on 4 Crestron controllers that support both manual and automated control of the audiovisual systems. A centralized audio processing system provides control of the extensive audio system.
Impact of the project
Electrosonic has met the client's vision and objectives by delivering an immersive, multi-sensory 65,000 square-foot observation deck experience that blends themed entertainment with stunning views of New York City.
The project has created an outstanding visitor experience through innovative technology, fused with architecture and storytelling that complements the creative concepts of Kenzo Digital.
As Morgan Rottinghaus, Electrosonic's VP Strategic Partners, explained, "The space is captivating because, when you first walk in, you feel completely immersed through the use of technology, media, the architecture and how all of that is tied together. The effect is creating a memorable experience that is going to last for years to come."
The immersive experience has created an important differentiator for attracting visitors. The client recognized that most observation decks are just about the view – an unusual way to see the city. The experiential technologies at Summit One Vanderbilt add new levels of engagement and entertainment to the stunning views, making the venue a destination that will keep visitors coming back.
This is important when growing familiarity with digital technology and themed entertainment has raised visitors' expectations of venues like observation decks. Summit One Vanderbilt takes the visitor experience to new levels with attractions like one of the world's largest infinity rooms, highly personalized interactive experiences like the 50-foot video wall where visitors can view their own image in the clouds, 3D directional soundscapes and the amazing light show at night that complements the stunning city skyscape.
Time Out described it as "A heart-pounding experience in the sky that's coming to midtown this fall and it's unlike any other experience atop a skyscraper."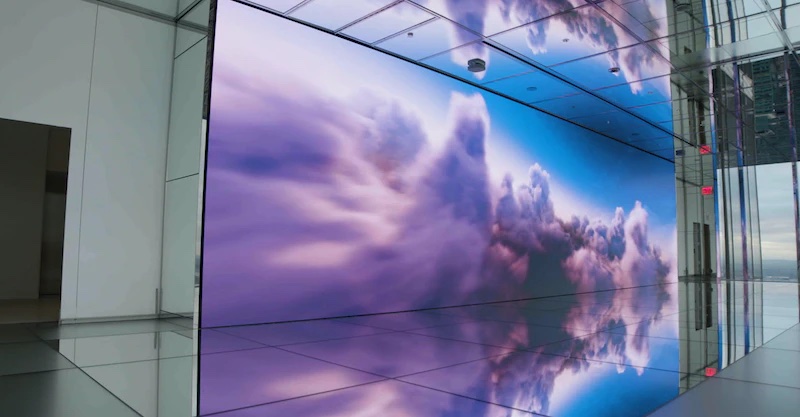 Summit One Vanderbilt is already recognized as a world-class attraction and creates a destination that is playing an important role in the resurgence of New York and mid-town Manhattan, as it welcomes back residents and visitors from around the world to experience something truly magical.
The observation deck played a key role in the transformation of One Vanderbilt, and this was recognized when the owners received the 2021 Urban Land Institute's New York Award for Excellence in Development, which honors best-in-class development that reflects responsible land use practice and creation of sustainable, thriving communities.
Testimonials
"Electrosonic played a huge part in this project and, for all the technology, their hands were in every part of it, from audiovisual, sound, displays and the operational control system."
Michael Chagnon, Senior AV manager, SL Green
"We set out to create a truly unique destination for New Yorkers and visitors from around the world to explore and Summit One Vanderbilt delivers – you need to experience it to understand it. From thrilling ways to take in the best views of Manhattan to the multi-level and multi-room immersive art experience called AIR, we expect people to visit again and again."
Marc Holliday, Chairman and CEO, SL Green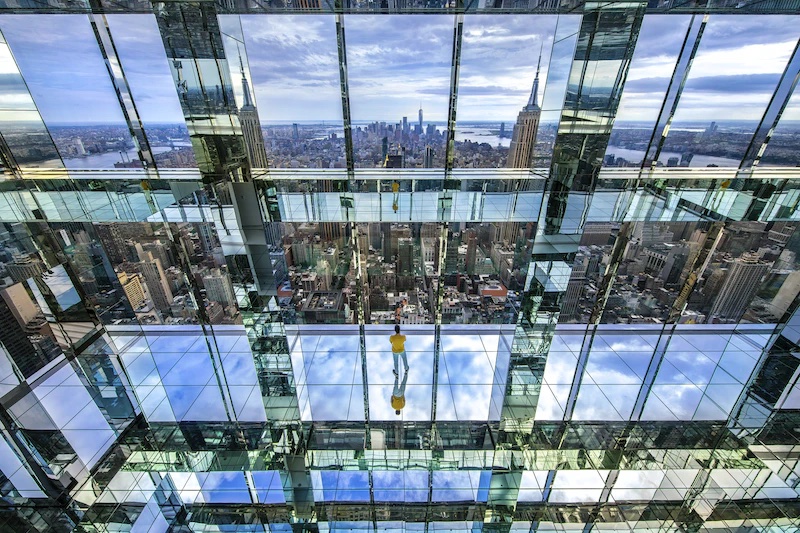 "Almost all observation decks around the world are just about the view; they're a way to see the city. We wanted to create an observation experience, pulling in immersive experiences. So we built this canvas and then turned it over to digital artists. We wanted to bring the city inside and then create ways of seeing the city that you've never seen before."
Robert Schiffer, Managing Director, SL Green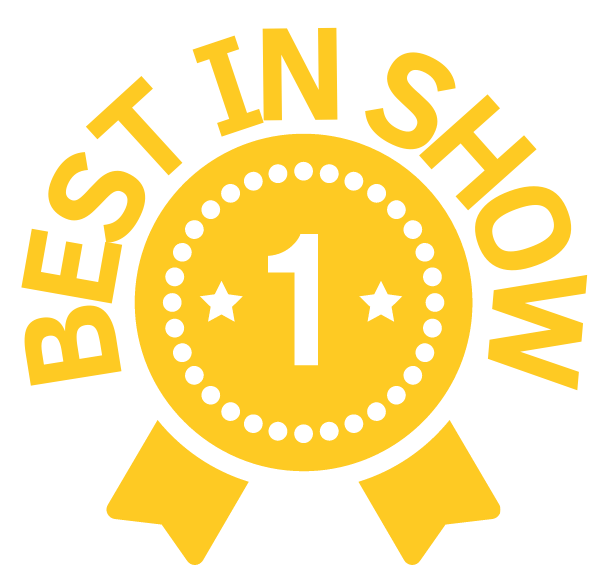 Summit One Vanderbilt was awarded Best in Show this year by our judges.
More information can be found here.
Partners
This project required high levels of collaboration with owners, designers, technology partners and specialist trades, including architects Snohetta, Kenzo Digital, audiovisual designers JB&B, technology advisors Tad, lighting integrators Barbizon, general contractors AECOM Tishman and system integration and support by Electrosonic.