Oh no, not another app?!
No, Chaperone is not another app. It's so far from being just another app, we're not calling it an app, even though at first glance, it looks like one.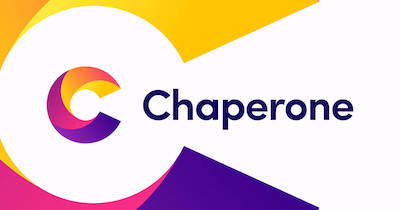 Chaperone deeply connects the brand to their audience in every single way possible.
Ticketing, yes of course. Maps, directions, heatmaps. Yes. Burgers and coke. Yes. But is that really all that's needed now that we're living in the future? No. No it's not, we contend. We can and we should be doing so much more with and for our audiences.
Chaperone is very smart. It knows a lot. It knows who, what where and when. It is also friendly. It can talk to anyone, in any language, and anything in machine language. It takes all of this data, information and knowledge and by offering high value personalised interactions with the visitors, converts it into knowledge and understanding. Understanding for the brand to learn deeply about their audiences, and understanding for the visitor to more deeply, and personally engage with the brand and whatever related subject matter they are interested in.
It is this personalisation that is key. Any individual, group of friends, family, school group, VIP group or pensioners having a fun day out. Everyone and every group can have their own, personalised and interactive experience with the venue, with the brand, with everything, wherever they are. En-route, at an exhibit or at home.
It's a bold claim to say that Chaperone can do everything, for everyone, everywhere. So we will stop short by saying this; probably Chaperone can do everything, for everyone, everywhere. We're confident because we designed it this way.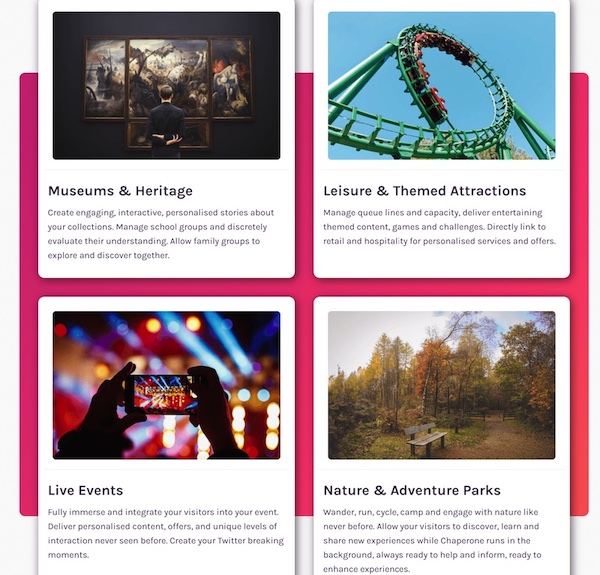 Dissecting Chaperone
To deliver this innovative, unique and unrivalled capability Chaperone comprises four 'domains';
the Back-end, where all the cleverness happens.
The App (in fact your App), which the audience uses to connect to your brand (and everything within it and around it). It resides on a smart phone and integrates all of the features of the phone from messaging and videos through to connecting to social media and the latest Augmented Reality features, such as scanning the 3D world and precisely overlaying content onto the 3D environment. Anything a phone can do, Chaperone can do. The same goes for wearables too.
The App builder. A simple designer tool to configure the user experiences. The creators of Chaperone understand the power of 'story' and have configured the App builder to align with the creative process, scene by scene.
The Experience Controller, a real time domain to allow any authorised person (a show producer, a queue line manager, a VIP host, the maître d, a family member, a stranger) to influence or control your experience. Or any authorised thing for that matter (an exhibit, a sign, a ticket, the weather, a tweet, climate events, nearby asteroids – anything that we can know about)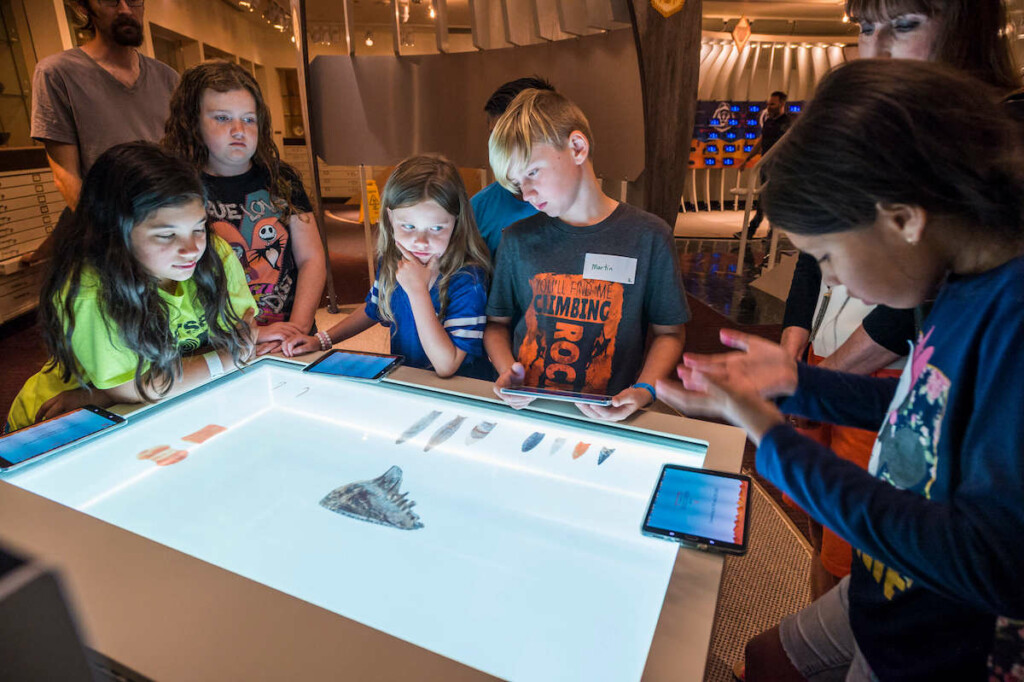 Interactivity and Innovation
So how can this all of this capability drive innovation in interactivity? Because Chaperone can be connected to everyone and everything, then it, and only it, can allow interaction between and with everyone and everything. Some examples;
Imagine a science centre where your device is no longer a phone, it's a kind of Star Trek tricorder. One minute it's a microscope, the next it's a telescope. One minute it's a sensor the next it's a wand for pointing and making things happen.
Then imagine it's a guide, a chaperone. Collecting information and data along the way and making recommendations about where to go and what to see next. "Well done, now do you want to learn about how that happens, or why it happens, or do you fancy a break to take it all in. Tea or coffee, we'll have it waiting?"
Now that we're all a lot more wary of touching things, let's not. Touch your phone and it will control the exhibit, legacy ones too.
Imagine a science centre that's not a science centre. It's a tree, or a pond. There's a lot of science in and around a tree and a pond. Chaperone allows an entirely new level of interaction with the natural and otherwise inanimate world. Two-way interaction too. Users can place thoughts, concepts, content at these places to be shared by other passers-by.
Light trails. Imagine controlling the lights and the lights controlling you (or at least your device) integrating your device into the experience. An entirely new concert-lighter interaction.
Now imagine you are in a group, you want to share your interaction with the exhibits and the space and the experiences with your friends, but no-one else. Users can create their own groups and interact with them. Sending content, messages and even controls within their group. Combining and sharing scores, information, rewards.
The Kravis Discovery Centre at the Gilcrease Museum was the pre-curser of this level of interactivity, read below to learn more.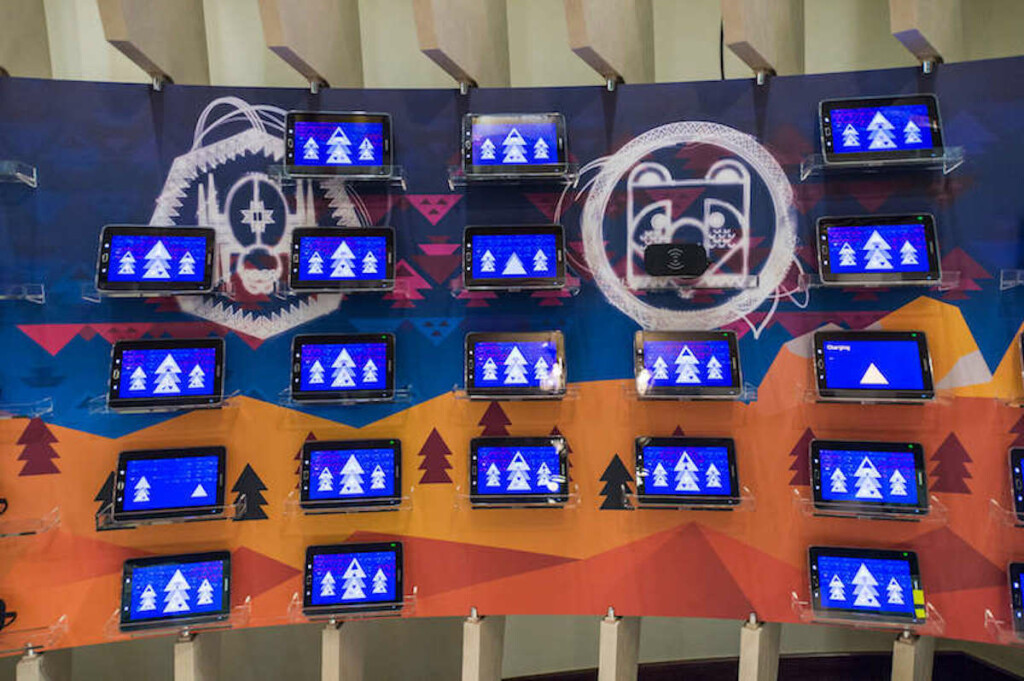 Pedagogical support
The first version of Chaperone was delivered in June '17 at the Gilcrease Museum in Tulsa Oklahoma. The brief was to provide a digital interface to 4,000 Native American objects in a high density gallery and bring them to life via storytelling and interaction via self-serve, self-charging tablets on display. Here Chaperone is able to chaperone school groups, friends families and enthusiasts through their own personal storytelling journey around the gallery. It automatically groups the youngsters and guides them around, disabling the tablets when they need to pay attention to the exhibits, and, because Chaperone knows where people are and what they're doing, automatically brings the tablets back to life when it's time to ask them what they've just learned – a subliminal but essential process to ensure that the pedagogical outcomes are met.
In this gallery at the Gilcrease, Chaperone controls the exhibits, and the exhibits control Chaperone. Only when everyone is there and ready does the exhibit start. And not everyone gets the same content. Chaperone knows about the user and delivers age specific, interest specific content at each exhibit. When it finishes everyone watching is asked age specific questions and gets an award. They are then guided to the next, which is waiting for them. Once it's all over, only when the replace their tablets on the self-service, self-charging display, will they get their reward and score.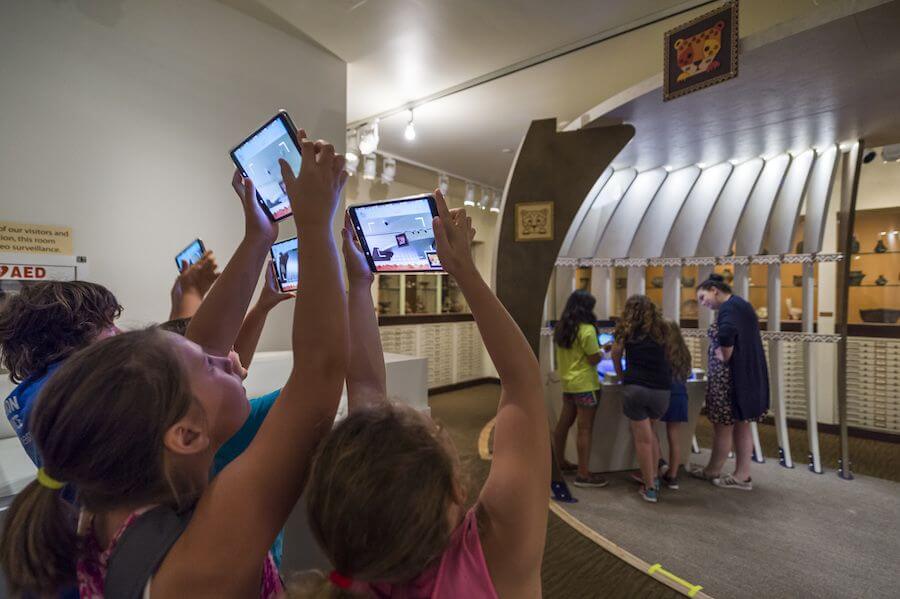 Since this first project, Chaperone has morphed and evolved and been set-free. No longer tied to one venue Chaperone can be used at any and all venues. It's app builder functionality allows any creative team to quickly and easily design and build their own storytelling, interactive, digital content delivery platform to engage in their brand. Wherever they are.
Just as importantly Chaperone is designed to be affordable so that anyone can use it. Its modular configuration and flexible pricing structure means that it's always affordable. Our strategy dictates that. Chaperone's pricing is matched to the application and the value created by its use. Price should not be a barrier, we believe, it should just be fair. All visitors, all audiences everywhere, should be able to enjoy a Chaperone level of personalised engagement. That, quite simply, is our mission.